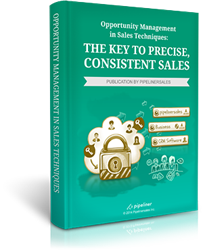 Los Angeles, CA (PRWEB) February 26, 2014
Pipelinersales Inc. announced 6 critical factors to evaluate opportunities. Opportunity rating and opportunity management give businesses a competitive edge for sales strategies. A much deeper understanding is obtained to which deals are likely to come in, which are not, and how many are needed.
Pipelinersales had laid out 6 facets in opportunity management:
#1: Profitability
Establishment of a profitability threshold for sales is important . That threshold would be the point at which a deal—after all costs of manufacturing, delivery and service are calculated—actually becomes profitable. Once a profitability threshold has been established, that is one factor that can be taken into account in the opportunity rating: by what percentage is that deal under the profitability threshold? The goal of all of sales strategies is to make a profit for the company, and accurately rating profitability is the key.
#2: Future Business
Another factor that should be taken into account in opportunity rating is: what is the potential of future business from this target company? If there is a high probability of considerable business beyond this single sale, that could mitigate a tight margin on the profitability threshold.
#3: Value in Market Strategy
If the sale is to a large, reputable company, it could considerably boost the credibility of a product or service. That should be taken into account in opportunity rating—especially if the customer gives permission to use their name publicly. Marketing strategy isn't always figured into sales strategies, but for the future survival of a company and its products or services, it should be.
#4: Likelihood of Closing
Something that will rate a deal high or low is its likelihood of closing. This will be based on the familiarity of the potential customer with a given sales rep, with the given product or service, or if they are currently looking at competitors. The work involved will be to be assessed with these factors involved.
#5: Risk Evaluation
Another facet of opportunity evaluation is that of risks involved in the sale. There is of course always the risk of the sale actually not closing at all, but there are other risks as well that should be examined to their extreme. Sales needs to ensure that the solution being offered is successful for the prospect company and that there is little chance for failure that would reflect badly on the company's reputation.
#6: Competition
Another risk factor to take into account in sales strategy is that of the competition. What are the chances of a competitor coming in with a comparable solution, perhaps at a cheaper price? What measures are being taken that will exclude competition and raise the chances of winning the deal?
All of these facets need to be addressed and a leading-edge CRM solution allows for customized rating of opportunities for a particular line of business and product—including all of the factors which make an opportunity worthwhile. Pipeliner CRM software provides a sales road map that helps guide sales team's efforts by following a sales process based approach designed to maximize sales opportunities. Exclusive to Pipeliner CRM is an intuitive graphic representation of the sales pipeline. With Pipeliner, sales forecasts—along with closing rates—can be determined. Sales analytics and sales forecasting are vital to assess risk.
For further information on opportunity rating, please download the free e-book "Opportunity Management." Pipeliner is revolutionizing the marketplace with not only an exceptional CRM solution but training and education to help sales people sell smarter. For a library of further e-books, please visit: http://landingpage.pipelinersales.com/free-ebooks-for-sales.
Pipeliner also offers trialware at: http://www.pipelinersales.com/easy-crm-software-download/.
About Nikolaus Kimla
Nikolaus Kimla is the founder and managing partner of Pipelinersales, Inc. and the creator of Pipeliner. Kimla is also the initiator of the independent economic platform GO AHEAD! which is based on the principles of free market economy. He is the author of Salespeople Embracing It All, The IT Revolution and Empty Coffers--New Burdens. For more information on Nikolaus Kimla: http://www.nikolauskimla.com.
About Pipelinersales Inc.
More than 19 years ago, Nikolaus Kimla set the foundation for Pipeliner's future with his company uptime IT-Technologies Inc. The creation of Pipeliner CRM initiated in 2007 and has been steadily developed through intense research. Pipeliner is next generation sales CRM software designed to empower sales teams and grow profitable customer relationships. Pipeliner CRM gives new ways to look at, and to interact with an active sales pipeline. It brings the power of sales data back to salespeople with unique methods that empower salespeople and make managing complex sales easy and fun.
For more information on Pipeliner sales CRM software please visit: http://www.pipelinersales.com or read our blog at: blog.pipelinersales.com. Follow our discussions on Facebook, LinkedIn, and Twitter.