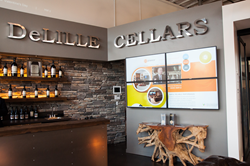 I think the Connoisseurs of Life Showroom has the potential to become the Times Square of downtown Kirkland. - Bruce Wynn, Executive Director of The Chamber of Commerce for Kirkland.
Kirkland, WA (PRWEB) February 25, 2014
Representatives of Realogics Sotheby's International Realty announced today a retail partnership with Bellevue-based Wipliance to showcase cutting-edge audio/visual technologies within a hybrid real estate showroom, retail art gallery and DeLille Cellars wine bar called Maison DeLille at 15 Lake Street in downtown Kirkland. The showroom will open on March 1, 2014.
"We are excited to partner with Wipliance and offer this high-profile demonstration of their impressive audio-visual systems within our premier retail showroom," said Dean Jones, Owner of Realogics Sotheby's International Realty. "Together we are attracting the connoisseurs of life to experience the best of brands all within one dynamic lifestyle destination."
Wipliance, a leader in custom commercial and home technology systems throughout the Pacific Northwest, installed more than 30,000 linear feet of cabling, seven large LED TV's, a massive digital billboard with ticker feed, a comprehensive audio distribution system and state-of-the-art control systems and security. The overall facility comprises approximately 3,200 sq. ft. and is designed to host larger events and make use of the flexible digital platform.
"This showroom is a tremendous opportunity for Wipliance to demonstrate how technology can be seamlessly integrated with architecture and yet provides a multitude of functionalities," said Lee Travis, Owner of Wipliance and OBOT Electric, an affiliated full-service electrical contractor. "We appreciate this retail window in the heart of downtown Kirkland and we look forward to supporting the numerous events and promotions that will take place in this one-of-a-kind venue."
Jones says numerous events have already been booked in the space including private functions for his real estate brokers and third party corporate events and fundraisers.
"While we're a real estate brokerage company every day the venue can be quickly converted for events thanks to the technology platform provided by Wipliance," adds Jones. "The majority of signage is digital and given that the systems are fully integrated it's really a plug-and-play operation. Wipliance has made what began as a very challenging technical objective into a simplistic, user-friendly solution."
Local opinion leaders have been watching the development of what's being dubbed the "Connoisseurs of Life Showroom" with great interest. A large digital billboard called the "Wipliance Wall" within the retail space is visible from a block away down Park Lane, which terminates on the west at the front door of the hybrid retail space at 15 Lake Street. This pedestrian-oriented street is undergoing significant enhancements with the City of Kirkland to include a European curbless promenade and open spaces for future festivals.
"I think the Connoisseurs of Life Showroom has the potential to become the Times Square of downtown Kirkland," says Bruce Wynn, Executive Director of The Chamber of Commerce for Kirkland. "With its central location, high visibility and digital displays it's not only one of Kirkland's newest lifestyle attractions but will likely become one of the most popular."
For priority information on upcoming events and promotions, join the Passport Registry at Passport Registry.
About Realogics Sotheby's International Realty:
As the leading global realty in the Pacific Northwest, Realogics Sotheby's International Realty operates branch offices in downtown Seattle, Bainbridge Island and downtown Kirkland. Ranked two years in a row among the "Fastest Growing Private Companies" in Washington State by the Puget Sound Business Journal, the collective of more than 80 brokers proudly represent buyers and sellers of all property types and price points. Award-winning marketing, extraordinary brokers and a truly global network have combined to generate exceptional sales success one client at a time. Visit RealogicsSothebysRealty.
About Wipliance:
With more than twenty years of experience between working in the fields of technology, sales, electronics, and design, the Wipliance team provides the region's premier fully-integrated solution for electrical contracting and lighting, audio-visual, security and window coverings along with automated control systems. Wipliance is an active member of CEDIA (Custom Electronic Design and Installation Association) as well as the MBA (Master Builders Association). Visit Wipliance.