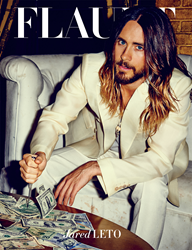 Jared's photoshoot for Flaunt, captures the essence of William Henry.
Los Angeles, CA (PRWEB) March 13, 2014
Oscar winner Jared Leto, talks to Flaunt Magazine and stars on the cover of the men's fashion issue. A true icon of fashion, Leto defined his sophisticated personal style choosing from William Henry's new men's jewelry collection, and sporting a superb limited edition pocketknife from the renowned American men's luxury brand. Click here for the backstage video of the photoshoot.
For over 15 years, William Henry has been redefining the world of luxury accessories for men by turning functional instruments such as pocketknives, money clips, and writing instruments into inimitable expressions of personal style. The new jewelry collection represents an important cornerstone in the brand's evolution in the world of luxury. "We are proud that Flaunt chose William Henry to highlight men's growing passion for jewelry." – says Matt Conable, founder and creative engine of William Henry. "Jared is an amazing man, talented and thoughtful, and his Flaunt photo shoot featuring our men's line really captures the essence of what this brand is about. It's about men who choose their own path."
On the extensive Flaunt feature story, Jared Leto wears William Henry's 'Snake' bracelet, a superbly articulated piece in sculpted sterling silver; and several pendants featuring sculpted sterling, hand-forged damascus steel and the exotic fossil materials that are the hallmark of William Henry's exclusive and distinctive designs.
The pocketknife is Jared's personal William Henry, featuring an intricate frame in hand-carved sterling silver with blazing red topaz, inlaid with 10,000 year-old fossil Woolly Mammoth bone.
Jared Leto says: "When [the films] connect with people and the films resonate, or the performance resonates — it's a really wonderful thing to celebrate that."
Matt Conable founded his company with similar objectives. ""William Henry's creations are personal, yet timeless in their appeal and relevance. In a time of volatile styles and ephemeral statements, I like to think that these rare pieces resonate with the personality of their owners, and become part of their living legacy.
As an artist and designer, I think of my work in the same way that Jared thinks of his work. It is about making a real connection to people, one that enhances their lives in small but permanent ways. I'm truly proud to see him wear a few of our creations".
Almost a year in the making, the new collection showcases William Henry's work with precision mechanisms, rare and storied materials, and exceptional craftsmanship, blended with intricate and symbolic stylings in sterling silver, interwoven with mokume gane (the ancient forging technique used to decorate the hilts of samurai swords) and hand-forged damascus steel, as seen on the knife carried by actor Trevis Fimmel, also on this issue of Flaunt Magazine.
Other rare and exotic materials include 100 million year-old fossil dinosaur bone, fossil Woolly Mammoth and fossil coral. The initial assortment of jewelry is comprised of over 30 pieces, including bracelets and pendants, as well as money clips and cufflinks, and will be available in the summer of 2014.
###
About William Henry
William Henry is an American luxury brand devoted to the vision of designing and creating superlative functional jewelry. Designer and entrepreneur Matt Conable founded the company in 1997 and is now the sole owner. Conable first established the brand creating exclusive and award-winning pocketknives, effectively transforming the archetype of all tools into a superb piece of functional jewelry for men. Today's collections also include cufflinks, writing instruments, money clips, and keychains. The brand's first men's jewelry collection will be available in the summer of 2014.
William Henry's collections are available on its website and through a select network of independent retailers in the US and abroad. For more info on WH visit williamhenry.com