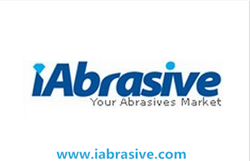 Zhengzhou, China (PRWEB) February 28, 2014
A brand-new abrasives online trade platform is available from iAbrasive today, which makes it quick and easy to determine which products are suitable for the applications of cutting, grinding, polishing.
iAbrasive is excited to launch the comprehensive upgrades of the website, which is considered as the best gift on its one-year anniversary. It has been a full year since iAbrasive made its first appearance on the global abrasives market in Feb. 26, 2013. Until now iAbrasive has developed into a mature e-commerce trade platform for diversified abrasives products, and gained generous supports and encouragement from both domestic and overseas abrasives manufacturers.
According to the introduction, during the past one year, iAbrasive has received many valuable suggestions from end-users regarding the classifications and attributes of products. To facilitate the online searching for the desired products, iAbrasive made several alterations upon the original one and added two new divisions--abrasive media and abrasive compound. For more information about the products, readers can view the official website at: http://www.iabrasive.com.
In addition, revisions have also been made to the homepage, which now look rich in content, tidy in design and are comfortable to use. With this refreshed website, abrasives purchasers are able to catch up with the latest global abrasives development through the "News" column.
Innovative promoting programs have also been provided by iAbrasive, which introduced three marketing solutions suitable for abrasives foreign trade companies at different developmental stages. For instance, some small or inexperienced foreign trade firms will usually complain about the high membership fees but low working efficiency of some comprehensive e-commerce platforms. To eliminate these concerns, iAbrasive works out various marketing plans at a lower cost, such as building company website and network marketing, thus to improve company's visibility and establish brand awareness.
More news about iAbrasive continue to be updated at http://www.iabrasive.com. Blogs are available at http://www.iabrasive.com/blog/.
About iAbrasive
Headquartered in Zhengzhou, Henan province, iAbrasive is a communication and information platform for the abrasives industry and offers domestic sellers the opportunity to present their excellent products to overseas buyers. The users can inform themselves of in-depth and comprehensive information on the latest developments, trends, services and products from different areas.