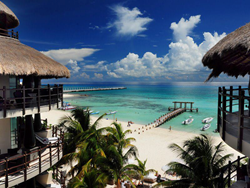 The Palms is our most popular unit with Americans and Canadians - the optional 3rd bedroom is a big plus.
Playa del Carmen, Mexico (PRWEB) February 27, 2014
Caribbean Living has released a new neighborhood of their popular Palms model of town homes. The Palms, a 2 bedroom, 2.5 bath townhome with an optional 3rd bedroom priced at $99,000, has been extremely popular with many different types of buyers. Americans and Canadians have found this particular model to be an attractive choice for both second home and as a rental unit.
"Clients tell us that getting a full 1100 sq ft, 2 bedroom townhome in the most popular tourist destination in the entire Caribbean for only $119,000 USD seems almost too good to be true," says Steve Didier, Chief Marketing Officer for American Realty. "Of course, with the average annual property value appreciation in Playa del Carmen being around 10%, these prices are not going to last long at all. As more and more Americans and Canadians find us, the demand is getting higher and the window of opportunity on this price point is disappearing fast."
Both the Paradise and Palms models are 2 bedroom condominiums, with the Palms model featuring about 150 additional square feet of living space and an optional third bedroom for only $119,000 USD. The Paradise model is currently priced at $99,000 USD.
The Caribbean Living development also features 4 town home models ranging in price from $79,000 USD to $169,000 USD – all part of a master planned community in the new suburb area of Playa del Carmen. Having built, sold and delivered 600 units in 2013, Caribbean Living is the most successful real estate development in the entire Caribbean.
American Realty has been helping Americans and Canadians own property in Playa del Carmen since 2005 and are experts in all areas of Mexican real estate, as well as the North American Free Trade Agreement or NAFTA.
For further information about the Caribbean Living development or if you have any other questions regarding real estate in Playa del Carmen, please visit our website.