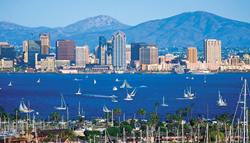 The Pulmonary Horizons Program will enrich your knowledge and equip you with essential information to improve the treatmentand management of patients diagnosed with COPD. The Health Outcomes of your patients will improve and you will reduce your costs.
SAN DIEGO, CA (PRWEB) February 27, 2014
Pulmonary Horizons programs are comprehensive and patient centered; developed by Vernon R Pertelle, MBA, RRT and Robert McCoy, BS, RRT, FAARC to help meet the complex needs of managing patients with COPD. The goals of the Pulmonary Horizons (PH) programs are to increase knowledge and support the various stakeholders by providing interactive conferences centered on evidence-based practices with a unique focus on the patient's perspective and the various respiratory care medical devices used to augment treatment plans. The Pulmonary Horizons program committee has begun compiling a list of experts to participate as panelists for the Key Stakeholder Panelists/Presenters.
The Panelists/Presenters will be charged with discussing strategies and solutions to solve a myriad of problems including but not limited to: (1) the vast majority of clinicians, patients and caregivers lack the knowledge and understanding of the medical devices used to treat patients; (2) the process to evaluate new medical devices for oxygen delivery is fundamentally flawed thus does not permit knowledge and understanding of the clinical utility for patients for objective evidence-based conclusions regarding the benefits, risks or potential harms of the devices; (3) recommendations from consensus conferences and evidence-based organizations have not been fully implemented because of the clinical-financial disconnect; thus we have not benefited from practical solutions that might result in positive health outcomes; (4) disease management programs and services, have not included patients in the development; yet patients are expected to adopt the plan of care established for them and adhere to it; (5) healthcare executives are heavily focused on operations; bottom-line, efficiency; productivity and cost reduction initiatives tend to be the major priorities; while those on the front line must balance the need to focus on delivering patient care, educating the patient, family; while operating efficiently; (6) the new models of care such as Accountable Care Organizations (ACOs) and Patient Centered Medical Homes (PCMHs) offer hope however the infrastructures must be well established to include all essential resources including respiratory therapists in order to demonstrate meaningful use and show improved outcomes while reducing costs.
The panelists who have been selected thus far to address these problems are experts with extensive experience in healthcare operations, strategy, finance, information technology, physician engagement and alignment, patient care, and new delivery models (ACOs, PCMHs).
To learn more about Pulmonary Horizons, educational program, please visit: http://www.pulmonaryhorizons.com.
About Pulmonary Horizons
The mission of Pulmonary Horizons (PH) is to offer the highest quality medical education in a learning environment that fosters critical thinking, encourages professional leadership, inspires research, and instills a strong appreciation of evidence-based knowledge in the treatment and management of patients diagnosed with COPD.