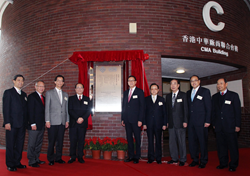 (PRWEB) February 28, 2014
The Hong Kong Polytechnic University (PolyU) has named a building on its campus after The Chinese Manufacturers' Association of Hong Kong (CMA) in grateful recognition of CMA's ardent support to the University and significant contributions to the development of education.
Following the donations of HK$1 million in early years that made possible the construction of a new campus in Hung Hom for the Hong Kong Technical College (predecessor of PolyU), CMA this year pledged another donation of HK$30 million to the University to support programmes that facilitate the all-round development of student.
Officiating at the plaque unveiling and ribbon cutting ceremony on 25 February 2014 were the Honourable Eddie Ng Hak-kim, Secretary for Education of the HKSAR Government; Mr Irons Sze, the 39th President of CMA; Dr Patrick Poon, Treasurer of PolyU cum Chairman of the Fund-raising Committee of PolyU Council; Professor Roy Chung Chi-ping, Chairman of PolyU Court; Professor Timothy W. Tong, President of PolyU; Mr Herbert Liang and Dr Jose Yu Sunsay, Permanent Honorary Presidents of CMA; and Dr the Honourable Lam Tai-fai, Legislative Council Representative of CMA. Dr Yu and Dr Lam are also members of PolyU Court.
Mr Irons Sze remarked that nurturing professional talents is always a priority of CMA. The donation to PolyU in commemoration of its 80 anniversary reaffirms CMA's long-term commitment to education.
Professor Tong expressed sincere gratitude to CMA for its long-standing support for PolyU. He said, "The generous donation of CMA in fact is a long-term investment in education. This will be a wise investment with very positive return as PolyU will work hard to ensure its students are capable of contributing significantly to Hong Kong and our motherland."
The donation will be used to fund students participating in "Service-Learning", Student Exchange Programme and "Global Student Challenge". These initiatives will help students develop a greater sense of social responsibility through serving the needy with their professional knowledge, broaden their perspective, develop their innovation and entrepreneurial capability.
The 8-storey CMA Building, with a total floor area of about 5,500 square metres, houses classrooms, laboratories and a number of faculties' and departments' offices.
Founded in 1934, CMA is celebrating its 80th anniversary this year. With over 3,000 member companies, CMA is one of the most representative industrial associations in Hong Kong. CMA has spared no efforts in promoting Hong Kong's industrial and trade development through organizing diversified wide range of activities. It organized the Hong Kong Brands and Products Expo since 1938, established the CMA Testing and Certification Laboratories and Hong Kong Brand Development Council in 1979 and 2005 respectively. CMA is also well known for its continued and extensive community services, especially in education. It established the CMA & Donors Scholarship in 1964 and two secondary schools in 1976 and 1985.