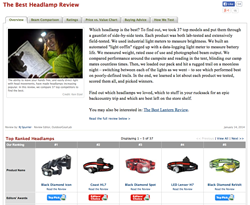 We built an automated "light coffin" rigged up with a data-logging light meter to measure battery life.
Cheyenne, Wyoming (PRWEB) February 27, 2014
Today, OutdoorGearLab released the Top Headlamp review. It contains the findings from over two years of extensive headlamp reviews after testing thirty-seven contenders around the campsite, on rugged trails devoid of moonlight and also in their lab. Lab testing was extensive. Industrial strength meters were set up to measure light. A "light coffin" was constructed. It recorded the levels of brightness of each product at regular intervals as their battery life diminished. With light physics equations the data was converted into graphs that displayed the degeneration of beam distance. A Battery Life vs. Beam Distance Tool was generated that gives readers the option to compare any two products they choose from over thirty different products available. Side-by-side comparisons are available in the categories of beam distance, spot-mode beam pattern, close-proximity beam pattern and of course, battery life vs. beam distance. Finally each product was given final scores in the following categories; ease of use, close proximity, trail finding, battery life and weight.
The following are the award winners:
The Editors' Choice award was granted to two products:
The Coast HL7
Gear Editor RJ Spurrier goes into detail, "For $36 it does what many models over $100 do at half the weight. It has an intuitive lever that controls its beam, great close proximity light and brightness levels that received great scores. While in high beam mode the battery wears out quickly which is why we have awarded an additional Editors' Choice award winner."
The Black-Diamond-Spot
Gear Editor RJ Spurrier explains, "The Spot costs a mere $40 and yet scored very high for battery life and beam performance in a compact light. No other model reviewed outscored the Sot for trail finding while keeping a long battery life and coming in under 100 grams."
The following products were each awarded the Top Pick award. This award goes to brands that scores exceptionally well at a particular application.
The Black Diamond ReVolt
Gear Editor RJ Spurrier writes, "The ReVolt is an awesome rechargable lamp. In addition to batteries it charges off of USB which make powering up extremely convenient. No one likes to get caught in the dark with a failing light. If you use yours a lot, this one is great because you can charge daily and start your next adventure confident that you have a full charge."
The Black Diamond Icon
"The beam distance of the Icon measured 80 meters and that combined with its excellent battery life was what won it our Top Pick for Trail Finding. The optics of its wide beam provided a nice bright even light. It was also pleasant set on low around the campfire. The Icon is waterproof, durable and scored the highest of the 37 contenders in the review" discloses Gear Editor, RJ Spurrier.
The Black-Diamond-Sprinter
Spurrier states, "The Sprinter is bright and light and good for urban sports like jogging or cycling, but the batteries wear out too quickly for it to be recommended for backcountry use. Cyclists might also like that it has the option of a red light that flashes to the rear."
The Petzl E+LITE
As described by Gear Editor Spurrier, "With the volume of a Chapstick this is the smallest and lightest micro option available on the market. It wins our Top Pick for being so. The question of whether or not to pack your headlamp will be eliminated from your mind as it takes up so little space and weight."
The Energizer 3 LED
Winner of the Best Buy award. This award is given to products that are reasonably priced and also score highly on the review tests. Editor Spurrier reports, "The 3 LED was given the Best Buy award for being one of the most inexpensive contenders involved that still satisfies the demands of light camping, hiking and everyday use. It did very well on the beam quality score considering it might be picked up easily at any store for around $13."
OutdoorGearLab LLC, headquartered in Cheyenne, Wyoming, is dedicated to creating the world's finest outdoor gear reviews. The company website is a free resource for people who love the outdoors and participate in activities such as hiking, climbing, backpacking, and camping. The company performs side-by-side reviews of outdoor gear and publishes the findings in comparative reviews. Each product is scored across a range of weighted areas, competing products are ranked, and awards are given to the best performing products.