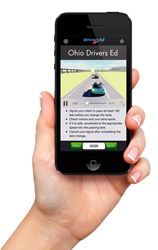 (PRWEB) March 13, 2014
DriversEd.com has released its new all-online Ohio drivers education course, which, for the first time ever, allows teens in Ohio to start earning a drivers license entirely online. The course launched in mid-February, and is the first of only three courses to be approved by the state thus far. A demo can be seen at http://DriversEd.com/ohio/teen-drivers-ed.aspx.
Previously, Ohio teens had only classroom-based courses to fulfill the 24-hour drivers education requirement, and were often required to take both the classroom component and behind-the-wheel component from a single provider. With the statutory addition of an online option, and the approval of DriversEd.com's course by the Ohio Department of Public Safety (DPS), teens under 18 may now take drivers education outside of classroom constraints, and go on to take their required in-car lessons from any provider they select. The addition of an online option improves public safety and creates jobs, by increasing the number of students who take drivers education, instead of waiting to age out of the drivers ed requirement. In fact, DriversEd.com has already graduated its first Ohio students, and sent them on to Ohio driving schools!
The new online course from DriversEd.com is accessible from all Internet-connected devices, offering teens the freedom to study independently at their own pace on any mobile phone, tablet, or desktop computer. This has proven invaluable to busy teens and their families, whose time is valuable and whose schedules are packed. Designed by experienced course developers at DriversEd.com, the interactive lessons feature quizzes, educational videos, and 3-D animated case studies to prepare teens for real-life traffic situations and a lifetime of safe driving.
Multiple studies have shown that online courses are equally effective as classroom courses. DriversEd.com's online courses have also been proven to reduce DUIs and traffic violations (2011 study by the Florida Department of Highway Safety and Motor Vehicles).
DriversEd.com's state-approved curriculum covers Ohio traffic laws and signs, principles of safe driving, and driver risks and responsibilities. With a state-provided final exam, the course prepares students well for the Bureau of Motor Vehicles (BMV) written instruction permit test. The course also includes 50 online practice tests to help students prepare for the BMV permit test.
DriversEd.com provides all required drivers education certificates with the online course. After the first two hours of the online course, students receive a Certificate of Enrollment that allows them to start in-car drivers training at any Ohio driving school. Upon completing the entire course and passing the final examination, course graduates receive a Certificate of Completion and are ready to finish their in-car instruction and go on to apply for a drivers license at the BMV.
DriversEd.com is the leading online provider of drivers education and traffic school courses. Founded in 1997, the company has helped over 6 million students become safer, more confident drivers. DriversEd.com is the only driving school in the United States that is both approved by the Road Safety Educators' Association and accredited by the Driving School Association of the Americas.
For more information, please contact Chris Flink at (888) 651-2886 x715 or Chris(at)DriversEd(dot)com.