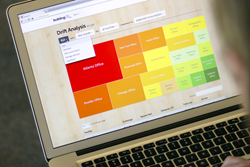 Our partnership with Accuenergy offers seamless integration capabilities...
Oakland, CA & Toronto, ON (PRWEB) February 26, 2014
Lucid and Accuenergy have announced a plug-and-play electricity monitoring solution that can be installed in less than 10 minutes and works out of the box with Lucid's BuildingOS platform. Lucid customers can now easily connect Accuenergy's pre-wired and pre-configured metering equipment with built-in data logging capabilities to begin streaming electricity consumption data in real time.
"Our combined solution reduces installation time from 6 to 8 hours down to minutes," said Howard Wang, Business Development Manager. "All wiring and configuration is performed in the factory so that customers can simply connect an Accuenergy meter to the Internet; no other action is required."
Traditionally power meters use the Modbus communications protocol, which requires adding a data logging gateway. Accuenergy and Lucid have developed a simple, cost-effective communication method that allows Accuenergy Acuvim II series power meters to instantly push data to BuildingOS without using a costly gateway device.
"This is a game-changing approach," said Wang.
Advanced data acquisition tools found in BuildingOS allow users to minimize time spent collecting information and focus their efforts on identifying savings opportunities, increasing behavioral and operational efficiency, and tracking improvements across entire portfolios of buildings. BuildingOS features full support for Accuenergy metering equipment.
"Our partnership with Accuenergy offers seamless integration capabilities, empowering building managers to track building performance and make informed decisions about building operations," said Vladi Shunturov, CEO of Lucid.
Accuenergy's Acuvim II series power meters use Lucid's revolutionary ConnectNow™ integration technology, which delivers instant connectivity for a growing number of meters, systems, and devices. With just a few clicks, you can connect a meter with BuildingOS.
About Lucid
Lucid is a privately held software company in Oakland, California. Lucid pioneered the concept of real-time energy and water use feedback and reduction competitions with Building Dashboard® and launched BuildingOS®, the world's first online operating system for buildings. BuildingOS quickly aggregates energy data from multiple vendors' metering and building systems into one unified source, giving building managers easy access to energy information and analytics. The cloud-based technology eliminates vendor lock-in, dramatically reduces system integration costs, and is intuitive to use. Lucid's software is used by the world's leading companies and institutions. http://www.luciddesigngroup.com
About Accuenergy
Founded in 1998 with headquarters in Toronto, Canada, Accuenergy is a leading producer of intelligent power metering solutions. Accuenergy maintains state of the art R&D, manufacturing, and distribution facilities to continually provide the highest level of quality in our products and services. With a global network of offices and representation Accuenergy ensures that our customers receive the highest level of service and delivery. With all metering equipment designed, assembled, and configured in North America, Accuenergy provides high-quality, versatile, and extremely capable metering products to the marketplace with remarkable affordability. http://www.accuenergy.com