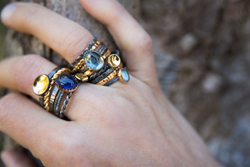 I am thrilled to provide hand-picked gem stones that will create fabulous jewelry and the perfect memory.
Boston, MA (PRWEB) February 26, 2014
Handcrafted Jewelry Designer Jenne Rayburn is incorporating more collectible and rare gemstones into her contemporary jewelry collections, to create unique one-of-a-kind pieces. "I've been collecting extraordinary gemstones for my work and myself for many years, and today more then ever clients are asking for unusual and rare stones to set their jewelry apart from the crowd," Rayburn said from her Massachusetts studio. "I love scouring the shows each year searching for new gemstone material and unique stones to bring back to enthusiastic clients."
Rayburn attended the Tucson Gem Shows 2014 held annually from January 31- February 16 in Tucson, Arizona. The acclaimed Tucson Gem and Mineral Shows set the standard for gem and mineral shows around the world and is now the largest collection of simultaneous gem and mineral shows in the United States with sales and exhibits that attract the world's best gemstones, jewelry, and lapidary dealers from across the USA and the globe.
The Tucson Gem Shows are a collection of different events held at over 50 locations through the Downtown Tucson area. Dozens of shows and exhibits are running at the same time. "I love the opportunity to visit Tucson each year, to network and meet new people," said Rayburn. "Attending this event allows me the chance to learn more about the trade so I can provide the best quality jewelry to my customers."
Gem trends are set in Tucson. Tucson brings together gemstone aficionados from around the world who have the opportunity of getting the first look at hot new gemstones and the newest production of classics. The show exhibits mineral, gem, fossil, lapidary and jewel specimens and offers a rare window into some of the most private gem and mineral collections from around the world.
This year, Rayburn acquired kyanite, spinel, labradorite and rough gemstones that sparkle with distinctive organic forms. "I am thrilled to provide hand-picked gem stone selections that are sure to create a fabulous piece of jewelry and the perfect memory," says Rayburn. Handcrafted Jewelry by Jenne Rayburn features a new selection of items that can fit every budget, a large selection of unique settings including bridal settings, affordable jewelry, and now the best items of the Tucson Gem Show.
Visit Jenne Rayburn's collections http://www.jennerayburn.com. Visit Jenne Rayburn on Facebook http://www.facebook.com/Jenne.Rayburn.
About: Jenne Rayburn is a Boston-based jewelry/textile artist who also studied interior design and architecture, and her work explores the convergence of architecture, design, technique and identity. Balancing the demands of a career and a growing family, Jenne is a mother, wife and daughter who designs for herself and all the women in her life who want to feel uniquely beautiful and powerful. It is her hope that the wearers of her pieces will find joy in a delightful artistic statement, and also something that enhances their individuality and confidence. Her work is suitable for wedding jewelry and is carried in local galleries and online. Please visit http://www.jennerayburn.com for Jenne Rayburn's online store.
###