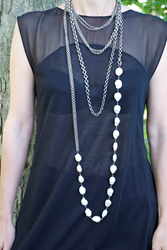 Wearable handcrafted statement jewelry that can be dressed up or down.
Boston, MA (PRWEB) September 18, 2014
Jewelry Designer Jenne Rayburn and United South End Artists will have a show and sale of local handcrafted jewelry, artwork and gifts at the South End Open Studios on Saturday and Sunday, September 20-21 from 11:00am to 6:00pm each day. Located at the Boston Center for the Arts, 551 Tremont St. in Studio 204.
Jenne Rayburn is a member artist of the United South End Artists. "I am extremely impressed by the sophisticated, volunteer organized Open Studios run by United South End Artists, Inc.," said Rayburn. "I love being an artist in the Group Exhibit Space where I can beautifully showcase my handmade, one-of-a-kind jewelry."
With over 200 Artists on hand to kick-off Boston's Fall Open Studios Season, the United South End Artists, Inc. is celebrating its 28th anniversary. The event, begun by a small group of artists, has grown to encompass 12 major buildings and numerous smaller spaces throughout the South End. Over the last few years, some of Boston's most noted galleries have also made the South End their home. South End Open Studios has become the ultimate local pop-up shopping event for contemporary studio and art jewelry, handcrafted ceramics, and woven textiles, offering the public the rare opportunity to meet innovative local artists working in Boston, Massachusetts and directly acquire pieces from them.
Customers looking for the perfect gift, or wardrobe staple can find something distinctive and contemporary from Rayburn's collection of designer jewelry. Rayburn is an advocate for wearable handcrafted statement jewelry that can be dressed up or down. "Handmade accessories and jewelry are a great way to update a wardrobe with something unique and personal," notes Rayburn. "Handcrafted jewelry bought at a local art and fine craft show is a true value, and customers always feel good about their purchases because they get high quality with an original design."
To reach a broader audience Rayburn recently launched a new website jennerayburn.com. Elegant and simple with beautiful photography; even the not-so-tech-savvy person can navigate and enjoy browsing. A wide range of jewelry is offered, from earrings, necklaces, cufflinks and rings and everything in between. Quality materials and vintage detail is a signature of Rayburn's work, and each piece of jewelry is one-of-a-kind. Current collections featured on the site include Ark, Ossis and the ever changing Capsule Collections. "I am thrilled! It allows me to have a greater connectivity with my customers," noted Rayburn. "I love being able to share what I create with my customer base and the new website allows me to grow my audience to both national and international markets." Offering online photo galleries, the website showcases some of Jenne Rayburn's broad selection of fine jewelry, pearl jewelry and natural gemstones.
For more information on the United South End Artists, and open studios go to:
United South End Artists, Inc.
28th Annual Open Studios
https://useaboston.com/seos-2014/
Visit Jenne Rayburn's collections: http://www.jennerayburn.com.
LIKE Jenne Rayburn on Facebook: http://www.facebook.com/Jenne.Rayburn.
About: Jenne Rayburn is a Boston-based jewelry/textile artist who also studied interior design and architecture, and her work explores the convergence of mythology, ornament and identity. Balancing the demands of a career and a growing family, Jenne is a mother, wife and daughter who designs for herself and all the women in her life who want to feel uniquely beautiful and powerful. It is her hope that the wearers of her pieces will find joy in a delightful artistic statement, and also something that enhances their individuality and confidence. Her work is suitable for wedding jewelry and is carried in local galleries and online. Please visit http://www.jennerayburn.com for Jenne Rayburn's online store. For wholesale information, please visit jennerayburn.com/wholesale.com.
###