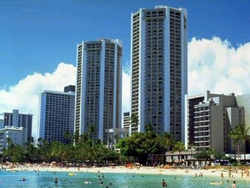 Creating an allergy-friendly option for our guests in an on-going endeavor
Waikiki, Hawaii (PRWEB) February 27, 2014
A trip to Hawaii can now be even more relaxing, especially for people with allergies or asthma. The Hyatt Regency Waikiki Beach, a 1,230-room resort fronting world-famous Waikiki Beach, has recently expanded its inventory of allergy-friendly rooms by PURE Solutions, converting the entire 14th floor into a hypoallergenic environment for guests.
PURE Rooms are treated according to a patented 7-step process that kills and protects against 98-100% of viruses, bacteria and other harmful irritants. PURE technology creates a room that is more comfortable for asthma and allergy-sufferers and also provides a more refreshing and rejuvenating experience for all hotel guests.
The addition of the new hypoallergenic floor was a direct response to the positive feedback re-sort associates have received since adding the hotel's first PURE Room in 2010.
"Creating an allergy-friendly option for our guests in an on-going endeavor," said Matthew Ellis, executive housekeeper at the Hyatt Regency Waikiki Beach. "Beyond installing the rooms, we continue to strive for the optimum level of comfort and wellness for people with allergies, all the way down to the training of our staff."
The installation this past December arrives in time for spring vacation season when travelers are looking to escape the cold weather. While Hawaii's lush vegetation and exotic plants may create problems for visitors with allergies or asthma, a stay in one of PURE's hypoallergenic rooms can help offer the restful night's sleep they need to get the most out of their trip.
CEO of Pure Solutions Brian Brault expressed admiration for the hotel's commitment and dedication to the wellbeing of its guests.
"Working with the Hyatt Regency Waikiki Beach has been a great experience," he said. "A hotel that is so engaged and passionate about providing safe and comfortable travel for allergy-sufferers demonstrates what PURE Rooms are all about."
About PURE Solutions
PURE Solutions utilizes state-of-the-art purification technology to create allergy-friendly environments that are 98-100%-free of viruses, bacteria and other harmful airborne particles. Each PURE Room is comprehensively treated to remove allergens and irritants from all hard surfaces, fabrics and air. To learn more about the PURE process and to book a room at one of their 300 partnering hotels nationwide, visit pureroom.com.
For more information about installing PURE Rooms at your hotel, please contact Vice President of Business Development Jeff Laster at jlaster@pureroom.com.
About Hyatt Regency Waikiki Beach Resort and Spa
Balanced between the idyllic beauty of the legendary Waikiki Beach and the dynamic city center, Hyatt Regency Waikiki Beach Resort and Spa is a vibrant destination combining relaxation and adventure with true Hawaiian hospitality. Each of the 1,230 guest rooms, including 19 suites, offers Hawaiian elegance and private lanai with panoramic beach, mountain and city views. With an unrivaled location just steps from world-famous waves, the resort affords end-less exploration of the island's attractions, from Diamond Head Crater, Honolulu Zoo and Waikiki Aquarium to world-class shopping, sophisticated dining and expert surfing lessons. Offering endless amenities including luxurious treatments at the 10,000-square-foot Na Ho'ola Spa, StayFit Fitness Center, swimming pool overlooking Waikiki Beach, fresh regional seafood dishes with upscale American cuisine at SHOR American Seafood Restaurant, Pacific Rim at Japengo, tropical cocktails at SWIM and more than 60 boutiques on-site. Hyatt Regency Waikiki Beach promises Hawaiian-style excitement paired with the warmth of authentic aloha spirit.
For more information regarding the Hyatt Regency Waikiki Beach Resort and Spa, please con-tact the resort by phone at (808) 923-1234 or visit the resort website at waikiki.hyatt.com.