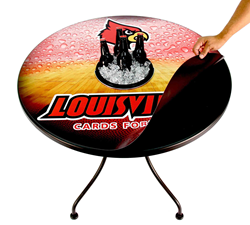 Possible 2014 Repeat?
(PRWEB) February 27, 2014
For fans of these six teams and 40 others, Animal Marketing and the MagneticSkins has a truly compelling and exciting product for the sports enthusiast - and now it's prime time because NCAA March Madness is less than a month away. The excitement begins March 18 in Dayton, Ohio, heats up with 16 games March 20 and 21, and concludes on April 7 in Arlington, Texas. Animal Marketing has been driving sales for many Fortune 500 Companies for 20 years and has been including these patented and wildly innovative tables for years. Edgar Davis, CEO of Animal Marketing says, "The MagneticSkins Bucket Tables, after years of demand, are now finally available for the home consumer and are perfect for any sports fan as they can be decorated with Top NCAA teams - and with the hole directly in the tables center it's perfect for a bucket of ice cold beer". Bars and restaurants all over the nation have had the MagneticSkins Bucket Tables emblazoned with designs representing mega beer brands such as Bud Light, Budweiser, and Corona Extra. The MagneticSkins have been featured on national television shows such as Late Night with Jimmy Fallon in partnership with Bud Light and March Madness and will soon be aired on Discovery Channels "Fast N' Loud". Edgar Davis shares "National TV exposure is key to Brand Awareness and with the purchase of our large format printing facility we have been able to dramatically drop costs which will ultimately help in driving sales". Animal Marketing can now offer restaurants, bars and homeowners custom MagneticSkins Bucket Tables featuring upcoming games or events, patron alma mater, or favourite schools and teams. The MagneticSkins Bucket Tables are so inventive and have become so popular that Fanatics, which is the largest seller of sports merchandise, will be pushing hard to get them on their site and selling before Spring and Summer 2014. Fast N' Loud and Sports Authority will also be selling and promoting their own brand of MagneticSkins Bucket Tables this spring.
Animal Marketing will also be promoting the branded and customizable MagneticSkins Bucket Tables which can be ordered directly from their website http://www.magneticskins.com