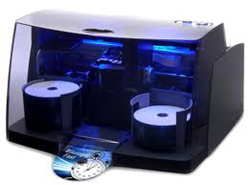 Our customers love Primera automated duplicators because they have a great price point and they work right out of the box.
Exton, PA (PRWEB) February 27, 2014
Media Supply, Inc., a leading supplier of data, video and archival publishing solutions, has partnered with Primera Technology, a leading manufacturer of specialty printing equipment to offer rebates of up to $700 in Apple gift cards. Customers who purchase any Primera Bravo Series disc publisher or printer through Media Supply can take advantage of this special offer through March, 31, 2014.
MediaSupply.com offers a full selection of automated disc publishers by Primera from the entry level Bravo SE to the advanced 4100 Series automated disc publishers, which are the world's fastest disc printers. The versatility of Primera's Bravo publishers and printers make them an ideal solution for any organization's and data storage and distribution needs. Primera has systems to meet the requirements and budgets of small churches and independent audio and video studios, as well as the largest corporate marketing firms, training or engineering departments, non-profits, television stations, professional sports organizations and government agencies.
"Our customers love Primera automated duplicators because they have a great price point and they work right out of the box," said Frank Quinlisk, Media Supply's Vice President. "Whenever Primera puts together a valuable promotion like this Apple gift card rebate, it really makes the purchase of a Primera publisher that much easier."
This special offer on Primera Bravo Series Disc Publishers is available online at mediasupply.com or by contacting Media Supply at 800-944-4237. Rebates are available on eligible Primera products by submitting a simple rebate form, found at http://services.mediasupply.com/primera/APPLE_rebate_2014.pdf
Media Supply offers first class pre-sales support along with CD and DVD media kits to create a total disc printing and duplicating solution.
About Media Supply: Media Supply, Inc. offers data duplication, equipment and supplies designed to meet the requirements of those wishing to distribute information in data, audio or video form. The company's key products are DVD, CD and Blu ray publishers, USB duplicators, digital color disc printing services, and premium quality DVD, CD and Blu-ray recordable media. Media Supply is located in Exton, Pennsylvania. For more information visit http://www.mediasupply.com or call 1-800-944-4237.
About Primera Technology Headquartered in Plymouth, Minnesota, Primera Technology, Inc. is the world's leading developer and manufacturer of CD/DVD/BD duplication and printing equipment. Its products are sold in over 160 countries and have been installed at more than 85 percent of Fortune 100 companies. More information about Primera, its history and products is available on the internet or by calling 1-800-797-2772 (USA and Canada). Outside of the USA and Canada, call (763) 475-6676 or FAX (763) 475-6677.