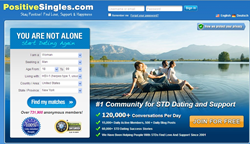 Los Angeles (PRWEB) February 26, 2014
The most popular dating and support website for those people who are suffering from a sexually transmitted disease, PositiveSingles, has announced that it will soon be adding a experienced and educated STD counselors to its staff. These counselors will be answering questions that members pose and helping to ease their fears and concerns about living with all different kinds of sexually transmitted diseases.
In late 2013, PositiveSingles added a section on its website where members can ask questions about their condition and symptoms. This has turned out to be a very popular part of the site, with many members asking questions about their physical and psychological conditions and what to expect after getting a diagnoses of an STD. Members have flooded the site with helpful answers. One example is a young woman who anonymously asked if she would be able to have children after receiving a diagnosis of a sexually transmitted disease. She received over 100 answers of support and encouragement from other members to help clear this woman of her anxiety. One member told her "I had four children and they are all healthy." This proves that this page is a great place to ask questions and get answers from people who suffer from the same conditions.
In order to make this page even more helpful and to serve its members, PositiveSingles has decided to hire more experienced STD counselors for its staff to help answer the members' questions about the symptoms of STDs. For example, one member asked, "How will HPV affect me?" Even though many members will respond to this question with helpful answers telling about their personal symptoms, it's best to also have information from a professional STD counselor to accompany the members' answers.