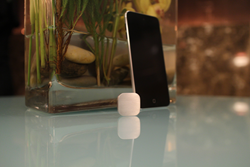 Chicago, IL (PRWEB) February 26, 2014
Neutron S is a universal mount for iPhones, iPads, Android and other mobile devices. It may be the smallest mount we've ever seen and could be the most beautiful.
The Kickstarter campaign was launched by Ananda Svarupa Das under the company Bungajungle.
Here are some of the highlights of Neutron S:
· Anodized aluminum and bead blasted finish like the Apple Macbook unibody.
· Magnetic (Neutron S uses Bungajungle's magnetic shielding-this means that although magnets are used to grip your devices, no magnetic field actually enter into it. Instead, it is limited to a very small plate that is adhered to the back of the device).
· Simple to use: attachment and removal is very easy, unlike suction cups that don't hold and take time to attach, or polyurethane nano-suction, which gets dirty, loses its hold and is affected by temperature.
· Minimal--Neutron S is only 7/8 x 7/8 x 1/4 inch in size. The minimal design follows the design curves of top devices from Apple
In 27 days, the campaign has raised over $50,000, surpassing its $10,000 goal. For a $20 pledge you can receive your own Neutron S in silver or matte black. There are still 7 days left in the campaign.
High Resolution Images for Press: https://www.dropbox.com/sh/j4vpb4i93r0hpdi/4hVGIL2DZ4.