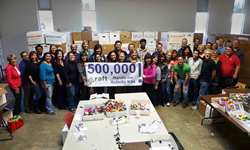 The 500,000th kit milestone signifies the popularity of the kits and the effectiveness of hands-on learning for math, science, and other STEM courses.
San Jose, CA (PRWEB) February 27, 2014
RAFT, (Resource Area For Teaching) the San Jose-based nonprofit organization committed to teaching the next generation of thinkers and innovators through hands-on learning, announced that volunteers assembled its 500,000th hands-on learning kit last week. Employees from Cisco helped RAFT reach this significant milestone during an afternoon of volunteering at the organization's Sunnyvale site. Given a growing nationwide interest in STEM Education, RAFT expects to build 180,000 kits this year, more than doubling its 2013 production. The 500,000th kit milestone signifies the popularity of the kits and the effectiveness of hands-on learning for math, science, and other STEM courses.
"We're excited RAFT has reached this milestone," said John Kern, Cisco Senior Vice President, Supply Chain Operations and member of RAFT's Board of Directors. "These kits can be a vital part of the learning process. Knowing that Cisco volunteers have contributed to such a successful community effort that is impacting STEM education is inspiring."
RAFT founder and executive director Mary Simon, a former teacher, observed children learning math and science concepts and noticed a pattern of greater understanding when students had a hands-on activity. She then developed games and other tools to support project-based teaching to actively engage students in the learning process and bring abstract concepts to life. Volunteers engineered RAFT's first kit as an evolution of Mary's teaching ideas. Now, RAFT has more than 100 different kits available to educators at its resource centers and online store.
"To think that we've reached this important milestone of assembling our 500,000th kit is surreal and it comes just weeks before RAFT celebrates its 20th anniversary," Simon said. "It's great to see educators recognizing the correlation of hands-on learning and students understanding of math and science concepts."
The kits are currently used by hundreds of public, private, and home-based schools and learning environments. Kits have also been used at science fairs, summer camps, and after-school programs. In fact, the kits' effectiveness in helping students develop critical-thinking and problem-solving skills, which correlates with the new Common Core State Standards and Next Generation Science Standards, make them an ideal teaching resource for educators who are currently transitioning curricula.
"I created exactly what I wished was available while I was teaching," Simon said. "I knew these resources had to be effective, engaging, affordable, and made from commonly found materials. With the help of Bay Area companies and donors, we achieved everything we set out to, and with this momentum we're looking forward to inspiring another generation of students."
About Resource Area For Teaching
RAFT believes the best way to spark a love of learning for the next generation of thinkers, innovators, problem-solvers and creators is through hands-on learning. A nonprofit organization since 1994, RAFT serves 12,000 educators each year who teach over 900,000 students. Find out more about RAFT and how to get involved at http://www.raft.net.