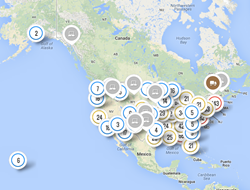 As a part of its commitment to subscribers, Maedi Tanham Carney, CFP®, CWIC and the M&L staff update the database monthly to reflect housing program additions, changes, and to ensure that all the information in the database is current and reliable.
Washington, D.C (PRWEB) February 28, 2014
On November 11 of 2013, M&L staff launched their very own, one of a kind Independent Living Program and Housing database and today they announce a sneak peak into the latest additions to the database. This online database has over 800 entries of independent living programs, service providers and special needs organizations from across the United States – and in addition to this, also contains other important resources related to housing, such as news articles, journal studies, research and financial information.
As a part of its commitment to subscribers, Maedi Tanham Carney, CFP®, CWIC and the M&L staff update the database monthly to reflect housing program additions, changes, and to ensure that all the information in the database is current and reliable. This month, the database will be updated to reflect (among other things) the addition of the Elwyn's residential and living support services. M&L announces this addition via their weekly blog, and provides readers with a sneak peek.
Elwyn – What is it?
Elwyn is an organization that is "at the forefront of developing unique, innovative services for people with disabilities." Elwyn provides services to a wide range of individuals (of all ages) in areas related to behavioral health, early childhood, individuals with hearing loss, special education, research and health, work and day adult programs, and supports for living.
As M&L writes, if Elwyn's impressive list of services isn't enough, their incredibly inspirational history is fodder for the movies: The organization was founded in 1852, during a time when it was standard practice for individuals with disabilities to be sent away from their families, to live off of the street or to be housed with violent criminals. Dr. Richard Elwyn, the founder, thought that there had to be a better way to support these individuals – from this idea, he developed one of the first schools for children with disabilities. From a small home in Germantown, PA Dr. Elwyn and the school's superintendent, Dr. James Richards, offered special education services to 26 students with disabilities – a groundbreaking achievement that has paved the way for special needs advocacy efforts that have spanned three centuries.
Over the years, Elwyn has grown from this tiny, 26 student-schoolhouse into "a diverse, multi-state human services organization serving individuals with a wide range intellectual, physical, behavioral and developmental disabilities. Today, Elwyn serves over 12,000 people with programs in Pennsylvania, New Jersey, Delaware and California. For over 158 years, Elwyn's mission has remained steadfast: to maximize the potential of the people we serve to help them lead productive, meaningful lives."
Elwyn's Services – Housing
Elwyn living supports are available in Philadelphia and New Jersey, and include campus living, community based homes and community based apartments, supported living arrangements and in-home supports, life sharing, and respite opportunities. In short, Elwyn offers virtually any service necessary to support any individual who wishes to live independently. According to the organization, Elwyn's overall goal is to maximize potential, therefore their Supports for Living service programs "provide each individual the least restrictive setting with maximum opportunity for independence, based on the individual's need for support as formally assessed with the support teams."
Elwyn and M&L share a vision for housing for individuals with special needs: that vision is that the residents of housing programs are active, contributing members of the community in which they reside. Elwyn is certainly a successful example of that vision, as 90% of the 12,000 individuals that they serve are supported directly in the community. That is certainly an inspiration.
In terms of homes specifically for individuals with ASD, Elwyn supports 6 single-family homes that are home to 19 young adults with ASD, ranging from 21-31 years of age. Each home has a staff of professional, qualified individuals who are trained to offer supports to individuals with varying support needs. Prior to move in, Elwyn staff develops a transition plan for each individual with ASD, and staff works with the family, the individual and the individual's transition team to ensure that the transition is smooth for all involved. In addition to this, each home is designed with safety in mind, and accommodations are built/renovated based the needs of individuals with ASD – i.e. space for sensory stimulation, environmental restructuring, etc.
According to M&L, Elwyn housing developers also plan for more than just the physical environment of the home – as mentioned, support staff and behavioral experts are in place for all Elwyn residents. In addition to this, daily schedules and carefully structured activities are paramount to the comfort and success of Elwyn residents. According to the organization, "outcomes are developed for each home, promoting social, communication and functional living skills which decreasing challenging behaviours that inhibit a person's ability to function at his or her fullest potential. "
M&L Special Needs Planning, LLC helps families plan for housing needs of family members with disabilities through services such as their Comprehensive Special Needs Financial Life Plan, and their newly launched Independent Living Program and Housing Project. Those who wish to learn more about housing for individuals with disabilities and other financial and life planning services related to special needs planning can visit the M&L Special Needs Planning, LLC website and are encouraged to contact them for more information.