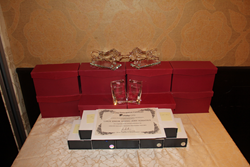 (PRWEB) February 26, 2014
Phillip CFD, part of Phillip Securities Pte Ltd, celebrated their Top Trading Representatives (TR; also known as remisiers) and Contracts For Difference (CFD) specialists of 2013 with a quintessential Chinese New Year luncheon. The purpose was to recognise our hard-working, hard-earning salespeople and to thank them for their support over the years. With scattered individuals dressed in shades of auspicious red, the group of 31 started the luncheon with a prosperous toss of the traditional Yu Sheng and expected good luck wishes "huat ah huat ah (be prosperous)", "gong xi fa cai (congratulations and be prosperous)" "good luck in everything". Some even made their fortune wishes closer to the stock markets, such as: "penny stock doubles" "rapid growth investments" and "no crash no crash".
Between banter of market movement and tucking into an eight-course meal of New Year delicacies, there was discussion of creating greater communication between the salespeople and CFD in order to improve software and the client experience. Luke Lim, PhillipCapital Head of Corporate Development, resound this concern as he encouraged greater dialogue between all present. Mr. Lim also acknowledged the hard work of the remisiers and dealing teams and thanked them for the contribution made over the past year.
As the largest provider of CFDs in Singapore* and the most recognised brand amongst brokers, Phillip CFD prides itself in its ongoing CFD specialist programme, which is currently entering its 5th consecutive year. With this group of specialists, Phillip Securities provides trustworthy and stable financial advice to its clients together with accessible educational tools for clients to maneuver easily within the CFD market. With the support of its loyal client base, Phillip CFD will continue to serve its community through steadfast communication and improvement.
*By total number of relationships as reported by Investment Trends in the 2013 Singapore CFD & FX report, based on an online survey of over 10,000 investors.