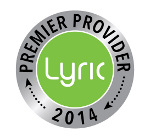 There is nothing in the audiology community quite like the Lyric hearing device.
Highlands Ranch, Colorado (PRWEB) February 26, 2014
After working with Lyric Hearing for the last two years, Sound Relief Hearing Center has been selected to represent Lyric as one of only four Premier Providers in Colorado. Selection criteria for practices to earn this exclusive title includes: patient satisfaction, reputation in the community, and overall quality and professionalism of the providers and audiology practice.
"Sound Relief is one of my favorite practices to work with," says Scott O'Neil, territory manager for Lyric Hearing. "Dr. Julie and her team consistently provide extremely thorough testing and deliver audiological services in a very comfortable, yet high-tech setting. We are very happy to have Dr. Julie and her team representing Lyric."
Lyric hearing aids are a hassle-free, 100% invisible hearing solution – Lyric is the world's first and only extended wear hearing device that is worn 24/7 for months at a time through activities such as showering, exercising, and sleeping. Lyric is different from traditional hearing instuments because it is placed deep in the ear canal, 4mm from the ear drum, by a specially trained and certified hearing professional during a routine office visit.
"There is nothing in the audiology community quite like Lyric," explains Dr. Julie Prutsman, owner and founder of Sound Relief Hearing Center. "While not everyone is a candidate - based on the anatomy of their ear - those who can wear it – experience life changing benefits. The fact that the device is completely invisible with no batteries to change is terrific, but not the reason we fit so many of our patients with Lyric. The sound quality is unbelievable. With such deep placement, it uses the outer ear's natural anatomy to direct sound to the device, where it is then amplified to the ear drum. Since Lyric takes advantage of the ear's anatomy, users experience improved directionality and localization - the ability to determine where sounds are coming from."
Lyric is also the only hearing aid that can be worn 24 hours a day, 7 days a week for months at a time, without daily insertion or removal. "The extended wear feature of Lyric is a great solution for adults with severe arthritis, dementia, or poor vision," mentions Dr. Prutsman. "Since the device never leaves the ear canal – day and night – it can't be lost and doesn't have to be put back into the ear every morning. Users also receive the safety benefit of hearing while they are sleeping, a time when most people are not wearing their traditional hearing aids."
To commemorate this recognition by Lyric Hearing, Sound Relief Hearing Center is offering completely risk-free trials of the Lyric hearing aid. Those interested can try Lyric - the 100% invisible extended-wear hearing aid – completely free of charge. "We really just want to get the word out that something like this is available and let people try it to see if they fall in love with it too," says Dr. Julie.
To find out more or to schedule a risk-free trial, click here or call the Sound Relief Hearing Center at (720) 259-9962.
About Sound Relief Hearing Center
Sound Relief Hearing Center is a family-owned-and-operated audiology practice with a rich family history in the hearing health industry. Representing the family's second and third generation respectively, this mother/daughter team of hearing professionals has a combined 45 years of experience in providing the best possible hearing care to Colorado. With offices in Centennial and Highlands Ranch, Sound Relief Hearing Center offers a full range of diagnostic and preventative hearing health services, including tinnitus testing and treatment, hearing screening, evaluations, hearing aid sales, and rehabilitative and preventative counseling.