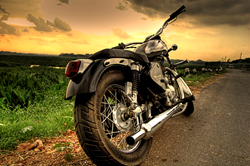 Seize this rare opportunity to ride literally, around the world.
(PRWEB) February 27, 2014
Signup for the longest motorbike rally in the world. This 2016 Around the World Moto Rally starts in London, May 2016 and it is expected to last four months. Weekly checkpoint parties are provided along the route, in various countries around the world. The rally is limited to 100 participants and the deadline to sign up is May 31, 2014, so sign up now by contacting http://TripTrist.com.
Riders may choose to travel at their own pace and pick their own route. Full GPS support and 24-hour help is included along with assistance with visas, carnets (merchandise passports), border crossing and bike transportation. And of course, riders receive magnificent welcome and farewell parties to mark the beginning and end of this remarkable world tour, as well as a souvenir DVD to show everyone at home how they crossed the entire world on a bike.
The rally is scheduled to start and finish in the cosmopolitan British capital London. The first part of the tour will cross all of Europe west to east, entering the vast expanse of glorious Siberia on the epic Trans-Siberian Highway and ending up at Magadan, a remote port town on the Pacific Ocean of Russia's Far East.
The second part of the tour will take you to the home of biker culture – the United States of America, which you will get to cross "from sea to shining sea". Riding the legendary Trans-America Trail, you will depart from the West Coast, cross the monumental Rocky Mountains and reach the Atlantic through the rolling plains of the Midwest. Even on its own, this part of the tour is an iconic route ingrained in biking culture as the Mecca of any ambitious motorcycling fan!
Become part of an exciting global motorcycling adventure and sign up for the Around the World Rally! For more information or to sign up, contact TripTrist Travel Planners.
TripTrist is a website that provides a search engine for adventure travel and tours around the world. Choose from over 2,000 tours by locally owned and run tour operators. Simply enter the location you would like to go and/or the activity you are looking for and browse from a list of exciting tour choices. No need to visit dozens of websites to plan your next adventure travel vacation. Just visit TripTrist and search for the best vacation for you and your friends and family.