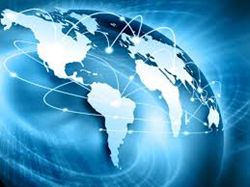 Getting online when travelling is important so plan ahead.
Hereford, England (PRWEB UK) 28 February 2014
Overseas travel will inevitably involve using a form of technology to communicate; this post by e-travelsafety.com will provide some top tips on tech travel security. Most of your preparation can be done prior to travelling to prevent, unexpected phone bills that involves the need to re-mortgage a house, or the simple loss of connectivity when overseas. The more preparation that can be done prior to travelling, the more the traveller will know how to safely communicate and access data abroad. How much is that all important status update is going to cost, or how much it is going to cost to not be able to access the business server when it is crucial. All of this information is available; it just requires a little work and effort to help the traveller stay connected when travelling.
The Internet has changed the way people shop, communicate, and even run a business. It is a part of everyday life and it doesn't look like this is going to change anytime soon. The average person, when travelling, will have a smartphone, a tablet and if on business normally a laptop. These are great devices that need to connect to the Internet to maximise their use. Sometimes it is nice to have a break from the Internet, but it is not long before the traveller will feel detached from what is going on with friends, at work, or even around the world.
Prior to travelling check out the options available for connecting as safe and securely as possible. More and more free Wi-Fi spots are popping up around the globe, but how safe are they and who is monitoring them? Only use these hotspots if it is vital, and don't use any apps or sites that require a password, especially financial details, such as business banking. Try to use hotspots that require a password and are not open to everyone; if in doubt use HTTPS over HTTP. Check the destination prior to travelling and find out what Internet services are available to connect to the web.
Be very cautious of public computers that are in hotel receptions or Internet cafes; it would be best to check only non important information on these machines. If these are the only ways to use the internet then set up another e mail prior to travelling just for that trip; it is easy enough to do and free.
It could be costly to make the mistake of thinking that when travelling, just use the smartphone for data, as this could be a very expensive way to surf or connect. To use it occasionally might be fine, but if surfing the web, checking social media sites or downloading it is going to cost a lot, and you might even find the provider cuts these services off in the middle of the trip it you exceed the monthly usage allowance. Speak to the phone provider and find out the costs prior to travel.
e-travelsafety.com provides travel safety advice, through an interactive e-learning package. The team has many years experience in travel safety and travel security, from teaching individuals, to multinational corporations, all around the globe. This has involved the delivery of pre-travel training, assisting deployment, and also managing travel, from remote locations, to tourist destinations. During this time e-travelsafety.com has gained an understand of the market and believed that a cost effective Travel Safety solution could be produced, that was not only hassle free but also easy to use by anyone.
E-travelsafety.com is offering a trial, of the travel safety package, that can be accessed by clicking here:
Safe travels