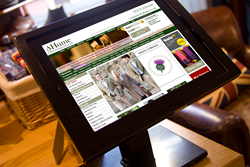 We sell beautiful heritage tweeds and cashmere but we're far from old fashioned
(PRWEB UK) 6 March 2014
Embracing technology is fundamental to the success of independent retailer A Hume, who has recently introduced iPads into their shops in response to customer feedback.
Whilst A Hume customers range from 20-somethings to 80-plus, the core customers are in their mid-40s to 60s – a group generally regarded by retailers as being less engaged with technology. Yet it was this group who often appeared in the shop looking for items they'd seen on the website.
James Abbott, Digital Marketing and Development Manager, says:
"A customer recently visited the shop having spotted a Barbour jacket on our website. He couldn't recall the name but vividly remembered the image., he could describe the model, and the overall web page. Then, when I guided him to the iPad touch-point he instantly remembered his journey to the page, navigated his way there and said 'That's it – the Trooper!'
"The iPads are a great way for customers to access this type of online content and video, and there's no doubt they enhance the service we provide."
The decision to install the iPads, has been warmly received, and is the latest innovation in a series of technological leaps that have transformed the traditional, independent Kelso based retailer.
"We sell beautiful heritage tweeds and cashmere but we're far from old fashioned," says James Abbott. "Strategic use of technology is key to our success - selecting the right technologies and integrating them so that they complement existing business activity and enhance the customer experience and service level."
The transformation of the 80-year-old family business began with the decision to embrace ecommerce in 2007. Since then A Hume has expanded their range in-store and online, opened a new shop, launched a mobile friendly (Smartphone) website - now generating 15% of site visits - and created The A Hume lifestyle blog http://www.ahume.co.uk/blog.
A Hume has won several awards in recognition of their ecommerce and retail success.
A Hume Country Clothing, http://www.ahume.co.uk , 01573 224620.