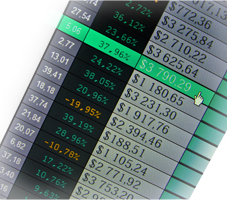 London, UK (PRWEB UK) 28 February 2014
As online stock trading becomes more and more popular on Forex platforms, UFXMarkets is keeping up with the growing demand. The Company has recently added five new companies to its list of over 30 stocks from around the world. These include American internet companies and European banking establishments.
EBay and Yahoo join Google, Facebook and Amazon on UFXMarkets' list of available internet stocks in the technology sector. Both of them are traded on NASDAQ and are part of the NASDAQ 100 Index as well as the S&P 500.
The new banking stocks that UFXMarkets have added to the list are more varied. Deutsche Bank is based in Germany and traded on both the Frankfurt and New York stock exchanges. HSBC was originally called the Hong Kong and Shanghai Banking Corporation, but is now one of the largest banks in the United Kingdom. It is traded on the Hong Kong, London and New York stock exchanges. Barclays, which has led the London banking sector since its foundation in 1690, is also traded on both the London and New York stock exchanges.
About UFX Markets
Since its establishment in 2007, UFXMarkets has become one of the world's leading online Forex brokers and investment networks, specializing in trading commodities, currencies, CFDs and indices. A Cyprus Investment Firm licensed and regulated by CySEC and a member of the European Union Securities and Exchange Commission, UFXMarkets guides traders with a wealth of financial resources and a professional team of financial experts with a combined 50 years of Forex experience.