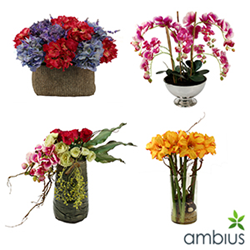 Ambius have recently re-launched their silk flower offering including artificial flower arrangements in four ranges: Indigenous, Country, Contemporary and Classic, with 12 lifelike arrangements in each range.
Cape Town, South Africa (PRWEB UK) 28 February 2014
Silk flower arrangements used to be thought of as old-fashioned, but they have come a long way since then, and are now so lifelike that it is almost impossible to tell them from their fresh counterparts. Ambius - a leader in interior plantscaping - have recently re-launched their silk flower offering. Ambius now offers artificial flower arrangements in four ranges; Indigenous, Country, Contemporary and Classic, with 12 lifelike arrangements available in each range.
Silk flower arrangements are ideal for brightening reception areas, desks or small meeting rooms and because they are available in such a wide variety of colours and styles, businesses are guaranteed to find something to suit any interior style.
Ambius professionals will visit business premises on a regular basis to care for silk flowers, keeping them clean and pleasing to the eye for visitors and colleagues alike. These artificial flower arrangements are also exchanged regularly, ensuring that there is always a new and exciting flower display on the premises.
In a whitepaper written by Kenneth Freeman, Ambius' International technical director ("Nature-inspired interior landscaping", 1 October 2011) he mentions that Harvard biologist EO Wilson coined the term "biophilia" to explain man's inborn response to nature and "his urge to affiliate with other forms of life". People naturally gravitate towards places that include elements found in the natural environment, so it makes sense to incorporate these elements into the office, says Wilson. When people have a closer connection with the natural world, they feel and perform better. Silk flowers offer all the aesthetic advantages of incorporating nature indoors, without the risk of flowers wilting, going brown or dying.
To speak to an Ambius design consultant regarding silk flower arrangements for your office interior, or to request a quote, call Ambius on 0800 752 687 or visit their website for more information.
The Rentokil Initial group specialises in pest control, hygiene services and interior landscaping for businesses across the globe. Ambius is a division of Rentokil Initial internationally, and is the global leader at enriching workplaces through the use of interior plants.
Ambius has more than 50 years of experience in providing office plant solutions around the world providing design, supply, installation and maintenance of acclimatised indoor plants. The company specialises in designing interior plant displays using acclimatised plants, but also offers additional services including exterior landscaping, corporate art, replica plants and flowers as well as plant and container hire for special events.
All of Ambius' products are designed to add to the aesthetic appeal and enhance the interior design of the workplace whilst improving the well-being of employees. Contact Ambius on 0800 77 77 88 for more information on the environmental benefits of plants or to arrange a free survey by one of their plant design consultants.