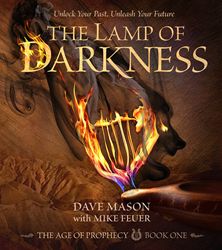 "My first experience studying the inner workings of prophecy, blew me away. I decided the time had come to reintroduce these concepts to the world." — Author Dave Mason
Jerusalem, Israel (PRWEB) February 26, 2014
Six years in the making, the first book of The Age of Prophecy series, The Lamp of Darkness, is finally set to release in the US this coming Tuesday, March 4, 2014. The epic tale mixes fictional, biblical, and kabbalistic elements, bringing the world of the prophets to life like never before.
"My first experience studying the inner workings of prophecy, blew me away," said author Dave Mason. "I couldn't understand why I'd never been exposed to these teachings before, and I decided the time had come to reintroduce these concepts to the world."
While the backdrop of the story is biblical, and its deeper teachings delve into the Jewish oral and mystical traditions, the main story in The Lamp of Darkness is fictional. "Early readers and reviewers have already compared the series to Harry Potter, The Lord of the Rings, and Star Wars," elaborates Mason.
Despite being written by two Rabbis, the series is not aimed solely toward a religious audience. "The biblical stories are really part of a shared heritage," continued Mason. "The stories are part of the Jewish, Christian, and Muslim traditions. This series makes these stories accessible like never before, giving the reader the keys to understanding the deeper meanings hidden in the text. Whether the readers consider these stories factual or allegorical, they've clearly been foundational in establishing the modern world, and I believe all can benefit from understanding them further."
Mason began writing the story in 2008. In 2010, close friend Mike Feuer joined him initially as a research assistant. "Mike went so far beyond my expectations for him, that I decided he should receive co-author status, though he prefers to refer to himself as a creative co-conspirator," Mason said.
Both Mason and Feuer are originally from the US, Dave from West Hartford, CT and Mike from Cleveland, OH, though both later moved to Israel and became Israeli citizens.
The Lamp of Darkness will launch in Israel first on March 3, followed by its US launch the following day. Launch party details are available upon request.
Though still under construction in the final days leading up until launch, Mason intends to make http://www.TheAgeofProphecy.com an interactive platform for learning about prophecy and the Biblical world.