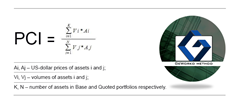 London (PRWEB) February 27, 2014
IFC Markets is proud to announce the launch of Personal Composite Instrument (PCI) trading, which is an innovative trading instrument, invented by IFC Markets. Creation and trading of Personal Composite Instruments became real through GeWorko Method which found its practical implementation through the concept of PCI. PCI is represented by the formula shown in the picture.
The concept of PCI is very simple and similar to currency pair trading (when the value of the base currency is expressed in units of the quoted one). However, PCI is much broader and can be used not only to create currency cross pairs, but also build quite complex investment portfolios and quote one portfolio in the units of another. Although the concept is very simple, it opens new horizons in financial analysis, based on being general and absolutely flexible, which is achieved by giving each asset an individual weight.
Traders and investors can test their own investment ideas based on PCI conecpts. Traders may wish to trade an instrument quoted against one's national currency, for example, Gold against Australian Dollar, which is not provided by any company. Thus, one can create a personal instrument XAU/AUD, obtain price history of the instrument for full fledged technical analysis and trade (this is just a very simple example, not aiming to advertise or give advice).
The new approach may be applied in various trading strategies some of which are listed below:

Spread trading, based on the search for differences in price dynamics of similar instruments;
Pair trading, based on matching a long position with a short one in two assets;
Searching for opportunities to enter the market for trading whole combinations of assets from different markets (stocks of different trading markets, currencies, indexes, commodities, metals etc);
Identification and analysis the periods of anomalous behavior of financial assets;
Optimization and a periodic rebalancing of the created portfolio in order to increase return or reduce risks;
Exchange of one portfolio with another within the concept of "good and bad portfolio";
Application of trading strategies, based on a long-term stable relationship between assets;
Hedging opportunities through building portfolios with certain sensitivity towards economic factors.
PCI is integrated in trading analytical platform NetTradeX, so the creation, modification, as well as deep price reflection on the charts and trading can be done easily with only couple of clicks. PCI is supported by a powerful analytical mechanism and visualization capabilities for in-depth analysis. Therefore, investors get a chance to analyze portfolio reactions to market drivers in the past and try to forecast future behaviors. By changing weights of individual assets in the PCI, investors may find a better combination of individual assets to construct a portfolio which best suits their needs. Technical analysis tools, integrated in the platform, can be applied to better understand the PCI performance. In addition, combining it with fundamental analysis, can help to investigate interrelations of different combinations of assets.
To summarize, Personal Composite Instruments and GeWorko Method are for professional traders, investors or financial analysts to study the complexity of interrelations between financial assets and their combinations. It makes testing and implementation of different trading strategies easy. In fact, traders go away from limits on the amount of available financial instruments or even markets and can take advantages of creating own instruments, reflecting their trading ideas/trading strategies.
About IFC Markets:
IFC Markets is a leading innovative financial company, offering private and corporate investors wide set of trading and analytical tools. The company provides its clients with Forex and CFD trading through its own-generated trading platform NetTradeX, which is available on PC, iOS, Android and Mobile. The platform is available in 15 languages. The company also offers MT4 platform available on PC, Mac OS, iOS, Android, Mobile and Smartphone. The main priority of the company is to provide highly competitive services, traditional and totally innovative trading and analytical solutions. Today IFC Markets is one of the best global CFD brokers in the market, supporting traders in multiple languages. http://www.ifcmarkets.com/