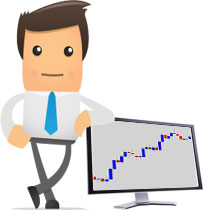 Your day to day experiences don't prepare you for the financial markets. You need to build a completely new way of thinking when you become a trader. It should center around a strategy that is simple and powerful, that's why I love price action trading.
Sydney, NSW (PRWEB) February 28, 2014
The Forex Guy is the brainchild and life's work of Graham Blackmore, the education director from DnBforexpriceaction.com – a site which taught traders how to understand and immerse themselves in Price Action trading to avoid many of the alluring pitfalls of short term, "get rich quick" trading strategies. There Graham built up a loyal following of thousands of traders who relied on his rare insight into long term market analysis to build trading strategies which delivered consistently and built confidence.
"Too many traders, both new and experienced, are so entrenched in the belief that stepping away from the computer for a minute during trading hours means missing opportunities", explained Graham, "Price Action helps traders to understand how the market works without following any overly complex formulae, which many of them don't even understand."
Trade "full time" without negatively effecting your day to day life
The Forex Guy takes this measured approach to trading volatile markets and builds on it with the addition of one key component; trading for your life, not with it. So many people get into trading to attain financial freedom and gain more control over their free time. But instead of using trading to support this goal, they end up spending far more hours in front of the charts than they would have spent in a day job, and often the fruits are far less than a normal salary too.
The Forex guy is all about showing traders how to develop trading strategies that will maximise their trading time so results can be achieved without throwing hours away with circular trading.
Set and forget with end of day strategies – The 2 hour work week
One of the trademark principles of trading The Forex Guy way, is the mantra of "set and forget". Traders need to trade with the confidence that as soon as they have opened a trade and set its parameters, they can turn off the computer and walk away to let it run its course. This principle was a big part of training at DnBpriceaction.com but with The Forex Guy, we have taken the idea much further. It isn't only about steering clear of the traps of scalping, day trading and counting the pips, it teaches traders to develop a firm grasp on the idea that they control their market activity, the markets do not control them. As people grow to apply this principle to their trading, so too can they find confidence in retaining the work/life balance that drew many of them to trading in the first place.
The Price Action War Room for passionate Forex traders
So named because market trading is a two pronged battle, firstly against the external movement of the markets and secondly the internal battle to master emotions, motivations and objectives. This is the place that those learning from The Forex Guy can come together. They can take part in a wide range of training programs which focus on both the technical and psychological aspects of The Forex Guy's price action trading mantra.
Community is an important part of the mentored trading offered by The Forex Guy and in addition to learning from the wisdom and expertise in the resources, members can share their own stories and experiences, meet other traders and discuss current events that are affecting their chosen markets.
The more traders learn together and build their own sub-networks to support and mentor each other, the greater the benefit of The Forex Guy's education, and the health of the community as a whole. "It's time to rid our industry of the stigmatised ideas that cause so many traders to go in blind and lose big" comments Graham, "market trading is not the path to making millions overnight, it is a profession that can give people lifestyle freedom, if they're willing to really learn and treat their trading like they would any other career path".
To find out more about the principles of The Forex Guy, or for comments or articles, contact:
Graham Blackmore - The Forex Guy
support(at)theforexguy(dot)com
http://www.theforexguy.com