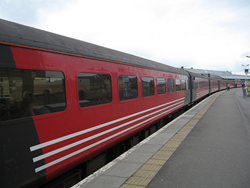 It's great to be able to offer rail travel solutions to group organizers. The train journey allows everyone to relax; not just an inter-city transfer but enjoyable added value.
Chippenham, UK (PRWEB UK) 9 March 2014
Train Chartering is launching 'Groups By Rail', a focussed strategy for the promotion of train charters, private carriages and large managed groups on routes to Scotland from England and Wales, with a dedicated account manager for the whole journey, from first contact to post-event report.
The logistics of transporting large groups of tourists, delegates, VIPs and other guests around the UK are operationally challenging. The optimum group train travel solution for Scottish destinations is to use the extensive British rail network, which is under-used for large numbers of passengers travelling together.
Train Chartering and the budget option, Train Hire, are best-placed to make use of the train services of every rail company in Britain.
The benefits of using trains, special private charter or in scheduled service, for group travel include:

Leave from city centres, rural stations, or stations near airports or seaports;
Groups can be bigger than a charter aircraft can accommodate;
Guests enjoy conversation, networking and being able to move around during the trip;
There are many ways to brand or theme the train or carriage;
Expert rail catering delivers quality menus with fully-licenced bars;
Plenty of seat space, frequently with full-size tables;
Generous baggage / luggage allowance which exceeds air and coach allocations;
Lower carbon emissions than many alternatives.
Train Chartering's guest management services provide a meet and greet services at stations, as well as close liaison with station and train staff for hassle-free trips. They also include ticket handling – guests and group organisers do not need to worry. Project management includes all the necessary planning, from receipt of inquiry through to the time the last passenger leaves the destination station.
Simon Pielow from Tran Chartering says, "It's great to be able to offer rail travel solutions to even the most experienced group organizer. The train journey allows everyone to relax and re-charge on the way; not just a transfer but enjoyable added value."
ENDS
For more information, please visit http://www.trainchartering.com, contact Simon Pielow on +44 (0)1249 890176 or email info(at)trainchartering(dot)com.
About Train Chartering
Train Chartering, now in its 15th year, has provided private train charters and carriage hires to a wide range of clients. Train Chartering operates mainly in the UK, Europe and North America - though rail travel can be arranged almost anywhere there are passenger trains.
Extensive experience and wide contact base allows the selection of the best trains available, along with a suite of on-board services, handling every detail from complex timetabling to food, entertainment and train branding.
Train Chartering leads a group of rail booking sites: Luxury Train Club, Train Hire, Private Rail Cars, and World Train Travel.