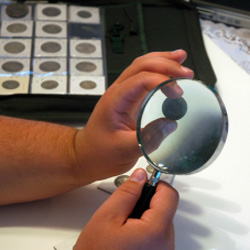 The sale price of a rare coin or collection mustn't hinge on the toss of one. Our complementary coin valuation service is available to all and there's hardly a reason not wanting to use it to get the most accurate valuation available.
London, UK (PRWEB UK) 26 February 2014
Models aside, would you be able to accurately define the asking price for the sale of a 1841 Queen Victoria gold sovereign or a one ounce American Eagle silver coin? The experts at Hallmark Coins can, and they're now sharing that knowledge at no cost to you.
Speculation may have a part to play in the practice of trading in shares, stocks, equities and hedge funds, but it has no place when it comes to the exact and precise art of buying and selling collections of rare gold and silver coins and sovereigns.
Hallmark Coins, expert facilitators in the art of buying and selling gold and silver coins at unbeatable prices assist traders in accurately determining the definitive asking price for their collections. Five years in the trade, they continue to develop an enviable reputation for an unrelenting commitment to concluding the most lucrative of deals.
Elliot Basker, Online Business Manager, Hallmark Coins, says, "We are a conjugate between a willing buyer and seller. Not only that, but we have the expertise, knowledge and precise understanding of exactly what makes a specific coin simply run of the mill, extremely valuable, or priceless.
"Useless information if kept to ourselves, our free coin valuation service is available to all numismatic traders and is an open and impartial line through to our host of specialist advisers. We encourage all of our current and potential customers to use it to their advantage."
Even if your coins have been valuated before, Hallmark Coins guarantees that they will be able to determine the market value fairly accurately using a proven combination of professional knowledge and up to date guides.
Investing in rare coins makes great economic sense. But unfortunately the process for many is falling down at the final hurdle as many traders take it upon themselves to determine the grade and resultant selling price of rare collectable coins, rather than consult an expert.