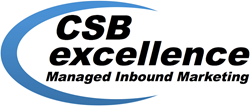 Just as the cloud shift has transformed IT, inbound marketing has transformed how leads are generated and how sales opportunities are nurtured into buyers
Andover, MA (PRWEB) February 27, 2014
CSBexcellence (formerly MSPexcellence) today announced a new Managed Inbound Marketing (MIB Marketing) service that cost-effectively generates qualified leads for IT Service Providers (ITSPs) including Managed Service Providers (MSPs) and Cloud Service Brokers (CSBs).
The new service replaces traditional, expensive and largely ineffective outbound marketing tactics with more current inbound marketing strategies. Inbound marketing uses relevant and authoritative content to attract interested buyers and lead nurturing campaigns to advance them through their buying cycle. The new service provides IT channel partners with a scalable growth engine that is particularly attractive to companies with a recurring revenue model such as MSPs and CSBs. With inbound marketing, the time it takes to recover the upfront acquisition cost of a deal based on monthly recurring revenue is typically half the time required by traditional outbound marketing methods.
The CSBexcellence MIB Marketing Service is a managed service in every sense of the word. Just like managed IT services, Managed Inbound Marketing brings a team of experts to a customer engagement for a fraction of the cost of staffing the same capabilities with in-house personnel. The CSBexcellence team is channel focused, technology savvy and fully Hubspot certified. The MIB Marketing Service allows channel partners to leapfrog to the next generation of Internet marketing technologies and best practices to realize the benefits of a professionally designed and managed marketing operation without the risk and expense of hiring dedicated, full time resources.
"Just as the cloud shift has transformed IT, inbound marketing has transformed how leads are generated and how sales opportunities are nurtured into buyers," commented Dave Zwicker, Partner and Co-founder of CSBexcellence. "Inbound marketing truly harnesses and leverages the power and the reach of the Internet to help channel partners find and educate buyers for cloud solutions in volume and with consistency."
"The age of the cloud has clearly mandated a more cost-efficient model for customer acquisition and revenue growth," added Todd Hussey, CSBexcellence Partner and Co-Founder. "The margins generated by monthly recurring revenue contracts for cloud services simply do not support the huge acquisition cost that comes with outbound marketing and outside sales. To make matters worse, the old sales and marketing approach is getting less and less effective every day. It's time to change the game."
The CSBexcellence MIB Marketing Service follows a phased partner engagement model that starts with a needs assessment, discovery and campaign development phase during the first 30 days. This results in a formal project plan that describes all deliverables and performance targets by the end of the first month. After this initial phase, the service then focuses on increasing website traffic, improving site conversation and nurturing leads into prospective buyers. Each month a formal review of all performance metrics is conducted and a plan for optimizing campaigns to improve their performance during the next month is developed.
Pricing for the service begins at $2,550 per month for the Silver plan and includes a variety of services designed to optimize the customer's website for search engine rankings, develop content and landing pages for site conversion, manage social media networks to increase followers and execute marketing campaigns for maximum lead generation. A Hubspot license is bundled with the service and all analytics associated with the service are made available to the customer with a performance dashboard.
CSBexcellence provides a variety of free tools and resources on its website to assist cloud vendors and channel partners in assessing their own inbound marketing activities as well as tools for business modeling, portfolio planning and funnel metrics analysis. There is also an educational eBook and an ROI calculator available to visitors. A complete description of the service plans is available at http://www.csbexcellence.com.
About CSBexcellence
CSBexcellence is a provider of Managed Inbound (MIB) Marketing Services to cloud technology vendors and channel partners of all types including IT Service Providers (ITSPs) Managed Service Providers (MSPs) and Cloud Service Brokers (CSBs). MIB Marketing is managed service that provides a highly scalable lead generation engine for filling the sales funnel and driving cost-effective customer acquisition. Visit us at http://www.csbexcellence.com and follow us @CSBexcellence on Twitter.
# # #