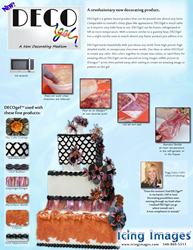 Decorating possibilities were running through my head when I realized DECOgel can go where Isomalt can't. - Peggy Tucker, School of Cakeology
Winchester, VA (PRWEB) February 27, 2014
Feb. 22, Icing Images introduced DECOgel at the Upper Midwest Bakery Exposition at the Treasure Island Resort and Casino in Red Wing, Minnesota.
Certified Master Sugar Artist, Peggy Tucker from School of Cakeology was on site to demonstrate the versatility of DECOgel during a showcase demonstration for the event as well as at the Icing Images booth.
DECOgel is a gelatin-based product created for bakers, cake decorators, and sugar artists to melt and pour in to molds or use as a freehand decoration to decorate cakes and other sugar pieces. DECOgel offers Icing Images' customers an alternative and enhancement to Isomalt, a product commonly used for molding and sculpting sugar decorations, with less the risk of burning given it melts at a lower temperature. Although DECOgel cannot create sugar pieces such as sculptures or decorations that stand away from the cake, it is a very flexible decoration that is very easy to use.
"Icing Images is very excited to offer this revolutionary new product to our customers. Not only does DECOgel work well with our products; it offers a wide variety of decorating possibilities when used with tools and molds sold by other suppliers." – Deborah Coughlin, Icing Images owner
Unlike Isomalt, DECOgel can be refrigerated, frozen or left at room temperature and requires very little heat to melt. The product can be melted and poured in to molds. Once set, it is easily removed from its mold, leaving a shiny finish to decorations. Applied to icing sheets, it takes the ink pattern with it giving it a stained glass effect that remains flexible. In such a form, it can be shaped into ruffles, flowers and other designs that require bending of the edible medium. The product has a gummy texture and slight vanilla flavoring to compliment all flavors it accompanies on a cake.
DECOgel is safer to use than Isomalt and not subject to clouding from humidity. The product promises to be more user-friendly for both the professional and home based baking and cake decorating market. The product comes 9 different colors and clear to allow decorators to create custom colors. All colors with the exception of the white and the clear have a luster like effect.
"From the moment I had DECOgel in my hands, I fell in love! Decorating possibilities were running through my head when I realized DECOgel can go where Isomalt can't." – Peggy Tucker, School of Cakeology
DECOgel is now available for sale on the Icing Images website in 8 oz. containers.
Icing Images has been a leading distributor of edible photo and edible paper art supplies for over a decade. The company also provides electronic die cutting machines and the hand-operated Spellbinders® Sweet Accents™ system for use with their edible imaging products.