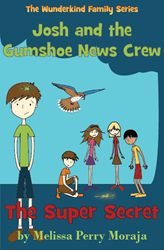 Family time is the best time to share stories.
Charlotte, NC (PRWEB) February 27, 2014
With the number of children reading for enjoyment at an all-time low, Melissa Perry Moraja, CEO of Melissa Productions and Award-Winning Children's Author, wants all parents to know it is not too late to start making reading one of their children's beloved pastimes. Reading is not only enjoyable, its academic benefits range wide as well. According to the U.S. Department of Education 2011 Reading Study, the more kids read for fun on their own time, the higher their reading scores.
"The greatest gift a parent can give their child is the love for reading," shares award-winning children's author, Melissa Perry Moraja. "As a child, I didn't love to read. In fact, I found it to be a chore. But as I got older, I soon discovered that reading can be fun. What made it fun for me was sharing the stories I read with others and discovering their perspective on it."
As a mom to four children, Melissa is familiar with different reading styles, abilities, and interests. She has one child that enjoys reading non-fiction and another that enjoys reading fantasy. She even has one like herself who has struggled finding books that keep his interest. Creatively, Melissa has found a way to make him excited to read.
The following are Melissa's top tips for mothers trying to help their children enjoy reading:

Make reading a family event by having everyone, including the parents, read the same book as their children. After you and your child have read the book, share what you enjoyed and didn't enjoy, who your favorite characters were and weren't, and what you would have done differently.
Read to your child(ren). Children crave parental time. What a great way to spend it, reading to or with them and then talking about what you have read together.
Let your child(ren) pick out their own books to read. The local library is a great source for kids to find books to read.
If the book was non-fiction, visit a place locally where they can learn more about the subject. If the book was fantasy, create your own world at home by making homemade costumes and setting. Kids love hands-on learning.
Have them write to their favorite author or attend a children's author book event with your child.
Create a friend book club where the kids read the same book and then get together weekly to discuss what they have read.
Encourage internet fun fact research, where your child researches their favorite subject on the internet and shares their findings with you.
Subscribe to a kids magazine of their choice.
Purchase games that encourage reading and spelling. Some online and Nintendo DS games promote reading such as Club Penguin and Pokemon.
If the book was created into a movie, watch the movie together.
In the end, kids need parents to listen and be interested in what they are learning through reading.
About Melissa Productions, Inc.: Melissa Perry Moraja is an entrepreneurial mom, a multifaceted business woman and a creative producer, authoring and illustrating numerous children's stories and self-help books. Founded in 2009, Melissa Production's mission is to offer humorous, inspirational products and services that promote self-awareness, creative learning, and leadership with the family in mind.With popular story book characters like Splatter, she speaks to children's hearts through color and parents thoughts by providing educational stories. For more information, please visit http://www.melissaproductions.com.
Contact:
Melissa Perry Moraja
Founder and CEO, Melissa Productions, Inc.
704-246-7304
http://www.melissaproductions.com