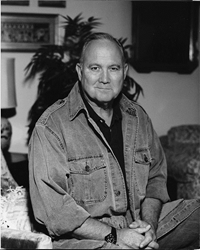 One of my proudest achievements in my life has been the formation of Camp Boggy Creek.
Eustis, FL (PRWEB) February 26, 2014
The 7th Annual Schwarzkopf Society Luncheon was held on Saturday, February 22, 2014 at Camp Boggy Creek. This luncheon was held to honor and celebrate the spirit of philanthropy and unyielding loyalty of Schwarzkopf Society members.
The mission of the camp was exemplified by campers and their family members as they performed an inspirational musical for the guests. After a delicious lunch, Hugh Durden, the Society's Chairman, and J. Patterson Cooper, Chairman of the Board, shared remarks of gratitude and appreciation for the devotion the members have for the camp. "We are honored to celebrate the commitment of our Schwarzkopf Society members to Camp and most importantly the impact they make in the lives of seriously ill children," shared Mr. Cooper.
During the program, each Schwarzkopf Society member was presented with a commemorative plaque, acknowledging their commitment to Camp Boggy Creek.
The Schwarzkopf Society is named after Camp Boggy Creek co-founder, General H. Norman Schwarzkopf, and honors individuals, companies, and foundations that have generously made gifts of $10,000 or more in a calendar year to the camp.
General Schwarzkopf was instrumental in creating the camp that serves children from throughout Florida. Longtime friend and colleague, Lt. General James R. Ellis, US Army (Ret.), shared, "I will always remember his visits to the camp. After each visit he would reminisce and share the contentment he felt seeing these children laughing and smiling and realizing they weren't alone."
# # #
About Camp Boggy Creek
Founded in 1996, Camp Boggy Creek is a year-round medical camp for children with serious illnesses. Co-founded by actor/philanthropist Paul Newman and General H. Norman Schwarzkopf, the camp offers week-long summer sessions and family retreat weekends at no charge to the children or families. Located in Eustis, Florida, the 232-acre nonprofit serves children ages 7–16 that have been diagnosed with chronic or life-threatening conditions. The camp is entirely funded by generous donations from individuals, corporations, foundations and healthcare partners. Camp Boggy Creek is a proud member of SeriousFun Children's Network. Learn more by visiting campboggycreek.org.