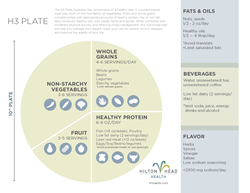 "The H3 Plate provides a more complete picture, and clearly lays out specific guidelines to attaining a healthy lifestyle." - Bob Wright, Director of Education at Hilton Head Health
Hilton Head Island, SC (PRWEB) February 26, 2014
Nutrition experts at Hilton Head Health (H3), America's #1 Health and Weight Loss Resort, today unveiled the H3 Plate, a visual "blueprint" for planning and eating a healthy meal. The H3 plate is loosely based on the USDA's MyPlate concept. But it reflects the most recent science-based nutrition and lifestyle research, as well as H3's thirty-seven years of experience in the field.
"The drawback to MyPlate is that the USDA has over-simplified many important concepts," says Bob Wright, H3's Director of Education. "The H3 Plate provides a more complete picture, and clearly lays out specific guidelines to attaining a healthy lifestyle." The H3 Plate is divided into four categories – Whole Grains; Non-Starchy Vegetables; Fruits; and Healthy Protein. It also provides serving recommendations for each category, and examples of healthy options.
Portion control is established by basing all servings on a ten-inch plate size. "Behavioral research has shown that smaller plates lead to less consumption," commented Wright. "Amazingly, people who choose to use smaller plates don't even recognize that they are naturally eating less – the smaller plate theory is a simple, subconscious way to curtail overeating."
The H3 Plate also features an informative sidebar derived from the Hilton Head Health model for a healthy diet. "Fats and Oils, Beverages and Flavors are three components that we've found through real-world experience to be crucial to long-term healthy living," says Lindsay Martin, Registered Dietitian at H3. "Flavor in particular is all-too-often neglected by health professionals – but in reality it plays a vital role in making a healthy diet sustainable. We recommend including herbs, spices, vinegar, salsas and low sodium seasonings to make low calorie dishes more appetizing."
About Hilton Head Health: For over 35 years, Hilton Head Health has been recognized as the premier weight loss and health retreat in the United States. Most recently, Hilton Head Health was featured on A&E's weight loss docudrama HEAVY, which aired in spring 2011. Voted as "Best for Weight Loss" for the past six consecutive years by SpaFinder, "Top 5 US Health Spas" by Lisa Drayer on the Today Show and the #1 Weight Loss Resort by Fox News, Hilton Head Health is an exclusive resort delivering individualized experiences in the areas of Fitness, Nutrition and SELF (Stress management, Empowerment, Longevity, Fulfillment). For more information, please call 800-292-2440.