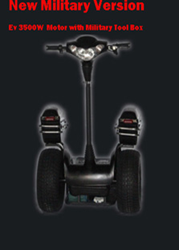 World First Segway style scooter just for over $1,000.
(PRWEB) February 28, 2014
A US company has come up with an imitation of the invention that was supposed to revolutionary transport.
The Segscooter electric scooter looks like a Segway, but has four wheels and costs a quarter of the price.
"The Segway is a marvelous invention," said Segscooter Co President Steve Liu, "but for me it is too much technology for moving from point A to point B."
The company has been drawing the crowds at the Consumer Electronics Show in Las Vegas, which ended on Thursday.
Cheaper and simpler
Just a quick glance at the Segscooter reveals that it is no Segway.
The Segway is a two-wheeled, self-balancing scooter which sells for $4,495 on Amazon.
For its part, the Segscooter stands on four wheels as there is no sophisticated built-in gyroscope.
The device is also significantly cheaper, costing between $1,000 and $1,500, depending on the model.
"When we saw the Segway, we thought it was not a bad idea," said Mr Liu, who decided there was room for a cheaper and simpler type of device.
"The more complication you have, the more problems you are likely to have," he told BBC News Online.
Show buzz
The Segscooter has two 500 watt motors built into the wheels, powered by a 36 volt battery that lasts for between 15 and 20 miles.
It can reach a top speed of 10 mph, which is comparable to the Segway.
The scooter also comes with a throttle controlled by the thumb, brakes, a headlamp and even indicator lights.
The Segscooter caused a buzz at the CES, the world's largest consumer technology showcase, with dozens of people taking a break from traipsing through the show floor to ride the Segscooter.
Mr Liu said they had sold thousands of units in just a few days, with people taking advantage of a discounted price of $800.
"It is a very secure feeling," said Katy Perry, as her husband ordered one of the $1,000 scooter.
The Segscooter has just gone on sale in the US and the firm is negotiating with eight UK companies to bring the scooter across the Atlantic.
Mr liu said he expected the scooter to be available in Britain in two to three months.
http://www.segscooter.com 1-800-766-1198