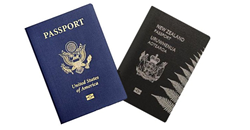 Making New Zealanders eligibility for trader and investor visas is in the U.S. economic interest ... and it's long overdue.
Washington, DC (PRWEB) February 26, 2014
The United States | New Zealand Council today voiced its strong support for legislation that would extend trader and investor visa eligibility to New Zealand nationals.
"Americans and New Zealanders collaborate closely in business, research, security and entertainment," said William Maroni, president of the US | NZ Council. "Sadly, the lack of access to trader and investor visas is a serious impediment to greater economic growth, closer cooperation, and new U.S. jobs."
The trader and investor categories, known as E-1 and E-2 visas respectively, were created expressly to benefit the U.S. economy by promoting capital infusion and job creation. The United States currently allows temporary entry for traders from more than 50 countries (under E-1 visas) and for investors from more than 80 countries (under E-2 visas). U.S. citizens are already eligible for similar visas in New Zealand.
"New Zealand is an important partner, supporter and friend to the U.S. and an influential thought leader throughout the world," said Maroni. "This legislation is in our shared best interests and it is long overdue."
The US | NZ Council, an independent, non-profit organization that advances US-NZ business, strategic, and cultural interests, believes that extending E-1 and E-2 visas to New Zealanders will significantly increase bilateral business activity, encourage greater investment and economic growth in the United States, create more American jobs, and further strengthen US-NZ relations.
A few examples of well-known New Zealand companies that invest and operate in the United States include Icebreaker, Carnival Labs, Fonterra, Gallagher Security, Rocket Lab, Pacific Edge, Wynyard Group, and Air New Zealand. Many other NZ businesses work closely with U.S. companies in a wide range of industries, as well as with local, state, and federal government agencies.
The Council commends Senators Mazie Hirono (D-Hawaii) and Mike Lee (R-Utah) for introducing a bipartisan bill, "The Encouraging Trade and Investment from New Zealand Act," that would include New Zealand among countries already eligible for trader and investor visas. The legislation is co-sponsored by Senators John McCain (R-Arizona), Marco Rubio (R-Florida), Patty Murray (D-Washington), and Chuck Schumer (D-New York).
About the United States | New Zealand Council:
The United States | New Zealand Council is the only independent U.S. group dedicated exclusively to advancing the business, strategic, and cultural relationship between the United States and New Zealand. Established in 1985, the Council is a 501(c) (3) non-profit organization that represents the interests of its US and NZ members in Washington and Wellington. Visit: http://www.USNZcouncil.org