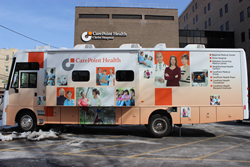 Hudson County, NJ (PRWEB) February 26, 2014
The hospitals of CarePoint Health - Bayonne Medical Center, Christ Hospital and Hoboken University Medical Center - are pleased to announce the arrival of a state-of-the-art medical vehicle, designed to address the growing health care needs of patients and families in our communities. The mobile screening van will travel to various locations and features a fully equipped exam room, wheelchair lift and lavatory to accommodate screenings and spot medical services throughout Hudson County.
Providing our communities with the best health care is often predicated on access, and CarePoint Health is committed to the idea that no patient, regardless of his/her location, should face an undue transportation burden. The mobile screening van seeks to remove barriers to access to help people take control of their health and wellness.
Key features include:

Wheelchair lift
Hydraulic leveling and stabilizing jacks
Exterior awning
Slide out room
27' TV/Monitor with DVD and laptop connection
Lavatory with toilet, pump, sink, holding and water tank, hot water heater, monitor panel
Microwave oven
3 Norcold refrigerators with freezers
Medical equipment includes:
Otoscope, Ophthalmoscope, Specula dispenser, Thermometer, Wall Aneroid
Exam table with storage
Medical sink
Defibrillator AED-10 with case
Vital signs monitor
Digital medical scale
Neighborhoods, community centers and locations throughout our area will soon see the arrival of the CarePoint Health mobile screening van in their vicinity.
For more information about the Mobile Screening Van, contact:
Allyson Miller
CarePoint Health
Vice President of Marketing and Public Relations
Phone: 201-858-5297
Fax: 973-646-5563
Email: AMiller(at)bayonnemedicalcenter(dot)org
About CarePoint Health:
CarePoint Health is bringing quality, patient-focused healthcare to Hudson County. Combining the resources of three area hospitals — Bayonne Medical Center, Christ Hospital in Jersey City, and Hoboken University Medical Center — CarePoint Health is a new approach to delivering healthcare that puts the patient front and center. With a focus on preventive medicine, disease management and healthcare education, CarePoint Health provides patients with 360 degrees of coordinated care, delivered by the area's best and most dedicated doctors, nurses, hospitals and medical staff.