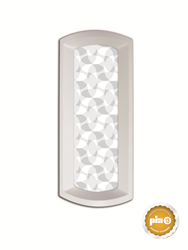 "We continually strive to design the best products for demanding applications to meet our customers' needs. Winning awards for our products confirms that we continue to bring cutting-edge products to the markets we serve." - Jim Hawkins, President
Gurnee, IL (PRWEB) February 26, 2014
Kenall Lighting, a leader in the commercial lighting industry, has been named a 2014 Product Innovation Awards (PIA) recipient by Architectural SSL magazine for two products: TopDek™ Post Top in the area lighting category and Low Profile Sconce™ in the specialty lighting category.
"We are honored to receive this prestigious award for two of our products," said Jim Hawkins, Kenall president and CEO. "We continually strive to design the best products for demanding applications to meet our customers' needs. Winning awards for our products confirms that we continue to bring cutting-edge products to the markets we serve."
Architectural SSL magazine's PIA Awards program was established to recognize innovative developments in LED lighting. A panel comprised of distinguished designers and lighting specialists reviewed submissions based on industry-leading performance and functionality.
The award determines and honors the best LED/solid state luminaires on the market, while also recognizing the companies behind the components that make up these light sources.
The judges recognized the TopDek Post Top in the areas of lumens per watts, optics and a 10-year limited lifetime warranty. The single pole mount luminaire's tertiary lens delivers a high level of glare control. Scaled for parking lot and adjacent area applications, the luminaire is available in eight distribution patterns, with a variety of wattage, lumen and color rendering options. In addition, its dual-optic system is field rotatable and offers enhanced flexibility for light distribution.
Kenall's Low Profile Sconce received a PIA award for its low profile and ability to meet OSHPD qualification. The sconce meets the most stringent requirements for infection control with an NSF2 listing, optional IP64 listing and ADA rating. It's sleek, classic design blended with high performance and state-of-the-art technology complements any building architecture.
For additional information on the Kenall family of products, visit us on the web at http://www.kenall.com, or contact us by phone at (847) 360-8200.
***
About Kenall Lighting
Since its inception in 1963, Kenall has been known for superior quality, exceptional value, anddurable solutions, and it is proud to provide sealed lighting for containment or clean spaces, security lighting for detention facilities, and specialized healthcare and transportation applications. Kenall products are manufactured in the USA and meet the guidelines established under the Buy American Act and the North American Free Trade Agreement. For additional information, visit http://www.kenall.com.
#####