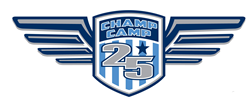 Champ Camp has been the premier recruiting camp since its inception 25 years ago.
Baltimore, MD (PRWEB) February 27, 2014
Over 30,000 high school lacrosse players have competed at Champ Camp during the last 25 years, and every one of them shared dreams of competing in college. Finding the right college can be stressful, frustrating, and confusing. The process has moved earlier and become more competitive for lacrosse players, as the sport has grown at the High School level far faster than the college. There are many more prospective college players than there are roster spots.
College coaches provide an excellent resource for High School players to learn more about their institution, and about the appropriate level that suits their talents. Champ Camp is the perfect conduit to connect the coaches and the players. Bringing together coaches from nearly all college lacrosse programs and the best talent from across the country, Champ Camp has been the premier recruiting camp since its inception 25 years ago.
With Bryan and GW's 30+ years of experience, they encourage every college-bound athlete to carefully manage their college search process. All too often athletes jump into a school based solely on the notion of playing time or because of it having a well-known lacrosse program, without taking into account the other important factors of selecting a college. Although athletics and playing time are very important for student-athletes across the board, the college selected must be the right fit overall to ensure success. Fit should include consideration for how the college aligns academically, socially, athletically, and economically with each student-athlete's needs.
A few things to consider outside of athletics:
1. Does the school offer a program of study that matches your interest and needs?
2. Does it provide a style of instruction to match the way you learn?
3. Does it provide a level of academic rigor to match your aptitude and preparation?
4. Does it offer a community that feels like home to you?
5. Are its values aligned with yours?
6. Is it a viable 4-year economic decision?
Players, Parents and Coaches interested in learning more about summer lacrosse recruiting camps and reserving a spot, give us a call, send an email to laxcamps(at)yahoo(dot)com or visit our website.
Champ Camp
Phone: 410.648.6250
P.O. Box 366
Galena, Maryland 21635