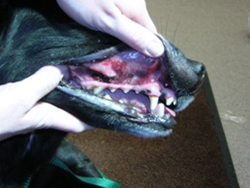 Oakdale, MN (PRWEB) February 26, 2014
February is National Pet Dental Health Month. Pets need dental health care as much as humans do. Imagine having a toothache, but being unable to communicate the need for help. Being in pain is stressful, but pets do their best to hide that pain. Pets with dental disease are hungry and still try to eat the best they can. Animal Emergency & Referral Center of Minnesota provides prevention and treatment for dental disease.
Animal Emergency & Referral Center of Minnesota's Dr. Elizabeth Brine has advanced training and specialist certification in dentistry. There are many treatments that can be done to help pets if they have a dental disease. Root canals, tooth polishing, fillings and treatment of multiple dental and oral diseases are just a few examples of what can be done to help make pets feel better.
Dr. Brine recalls the story of a dog whose outward behavior became aggressive due to dental pain. The dog's owner insisted her 12-year-old dog needed to be looked at for a dental problem. Five months earlier, the dog had a dental cleaning at the family veterinarian, but not dental X-rays. The issue wasn't resolved and the dog was now fighting other dogs in the house. Dr. Brine's examination and all the blood work seemed to be normal. She X-rayed the dog's mouth and the problem was found. She discovered wide swellings around the tooth roots of both lower first molars. It was a hidden and painful problem that wouldn't have been discovered if the owner hadn't insisted upon seeing a veterinary dentist.
Pet owners should talk to their family veterinarian about dental care. If advanced care is needed, pet owners can bring their furry friends to Animal Emergency & Referral Center of Minnesota and have them take a look.
Check out Animal Emergency & Referral Center of Minnesota's website at http://aercmn.com to set up an appointment or to find more information about their veterinarians and services.
About the company:
Animal Emergency & Referral Center of Minnesota (AERC) started out with one clinic, one veterinarian, and one technician. Today, they employ a wide variety of doctors and health care team members – all specially trained in emergency and critical care--in addition to a growing referral practice for when pets just aren't feeling like themselves. For more information, please visit their website at http://aercmn.com.