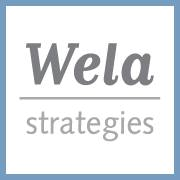 What makes Wela different is the ability to reach investors as a part of their daily lives and in ways that are more convenient and simple for actively managing finances. - Wes Moss
Atlanta, Georgia (PRWEB) March 06, 2014
Wela, an Atlanta-based RIA, announced today that it has launched a new website, http://www.YourWela.com. Via the new website, Wela plans to deliver the financial advisor experience and services to the next generation of investors in the way that those consumers want to receive advice – face-to-face online.
Wela is attempting to reach a younger generation of clientele and to encourage them to start saving and investing earlier than ever before. As opposed to listening to the radio for financial advice or being aggressively sold or pursued, Wela is attempting to deliver information in the way that younger, more tech-savvy investors want. According to Wela's Partner Mitch Reiner, "We are supplementing the traditional financial advisor relationship, offering clients advice via Skype, FaceTime, or live chat rather than requiring in-person meetings. We are replacing the need to call and make an appointment with a readily available calendar for clients to use to schedule appointments, just like making dinner reservations. And, we are keeping our clients updated on what we are thinking and how it affects their portfolio through the channels that they are utilizing everyday: Twitter, Facebook, and LinkedIn."
But according to Wes Moss, Partner at Wela, this new technology will not take away from the traditional client/financial advisor experience. Moss says, "The technology that we are implementing is not meant to separate us from our clients. If a client ever wishes to call or see us in-person, we will always make ourselves available. What makes Wela different is our ability to reach investors as a part of their daily lives and in ways that are more convenient and simple for actively managing finances." Moss continues, "Providing the ability for a client to maintain their accounts, interact with our advisors via Skype/FaceTime, and stay up-to-date with financial news is key. This client portal, YourWela.com, will be state of the art and will be a one-stop financial home for clients."
Although a few online-based investor services have appeared in the last year, Wela – who shares ownership with Capital Investment Advisors, a $1.3 billion dollar Atlanta-based investment firm – is unique operating in this space because it was built by financial advisors. According to Wela partner Matt Reiner, "We are not technology gurus who are in this for a quick turnaround and profit for our Venture Capital partners. We advise real clients every day, and we have a pulse on the markets because advising clients is our actual job." The new site will contain tools for investors of all ages and income levels. With features like "Rank", a tool offering individuals a chance to discover how they measure up to others in their age and income groups in savings and investment habits, http://www.YourWela.com offers anyone interested in investing access to real-time financial information, tips, and strategies to boost financial health.
About Wela: Wela is a registered independent investment advisor providing investors with portfolio management that leverages institutional research to design low-cost, tax efficient, ETF model portfolios that are age and/or time horizon based. Wela is specifically designed to accommodate investors with targeted investable assets of $500k or less. For more information on Wela, visit http://www.YourWela.com or call 678-608-0420.