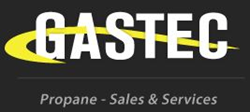 Bucks County, PA (PRWEB) February 27, 2014
GasTec, a propane delivery and equipment installation company in Bucks County, PA, is doing what few of its competitors are during the 2014 propane shortage. Instead of denying service to new customers due to lack of supply, GasTec is taking measures to ensure everyone has access to the alternative source of energy that has been rising in demand since the start of the 21st century.
With more energy efficient uses for propane today like home heating and autogas, the demand for propane has spiked. And, until recently, that demand was being met by propane companies nationwide. However, due to the prolonged period of cold weather that began in October 2013, more than the average amount of propane was required by homeowners, farmers, and companies last year.
According to a statement by the National Propane Gas Association released on January 22, 2014, "The U.S. Department of Energy reported that cold weather led to record-high natural gas storage withdrawals, as well as propane. These are the largest drawdowns in the 20-year history of the [department's gas level] survey and the second time this year the record has been broken.
Also mentioned in the statement were the main causes of the shortage.

Farmers' need for massive amounts of propane to dry large, wet crops that were harvested around the same time as the prolonged period of cold weather. Also, while harvesting typically happens in stages, the 2013 harvest happened at the same time over a wide area.
Homeowners' constant need for propane to combat the chilling temperatures with propane-fueled home heating.
Shut down of the Cochin pipeline that provided 40% of propane used by Minnesota suppliers. This triggered a chain reaction throughout the country.
The United States also exported a record amount of propane in 2013. But despite the ongoing shortage resulting from these events, Gastec, as previously mentioned, continues to supply new and existing customers with the propane they need. By 1) traveling longer distances than normal to replenish their supply, 2) raising prices modestly to compensate for longer distances traveled, and 3) encouraging awareness of propane usage among customers, Gastec has remained a reliable source of propane supply and services among customers in Pennsylvania, Delaware, and New Jersey.
You can learn more about the national propane shortage here and more about how it has affected PA here.
About GasTec:
Comprised of an advanced team of technicians and delivery drivers, along with a highly developed office staff, GasTec is a local propane provider with the specialized knowledge and resources to compete with any national propane supplier. GasTec services parts of Pennsylvania, New Jersey, and Delaware and prides itself on delivering 'small town service' by maintaining a personal, working relationship with its clients. Learn more about GasTec and its propane services today.