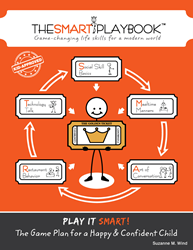 The SMART Playbook is a smart, relatable resource. I TRULY love the whole concept. Parents can make sure their children develop vital social skills while having a fun experience with their kids. The information is very helpful and tone is pitch-perfect.
Greenwich, CT (PRWEB) February 27, 2014
The world is changing faster than ever before. Parents and children are busier and technology has presented new challenges we must face. But with all the texting, emailing and posting, are children developing the social skills that will be required for life-long happiness, confidence and success?
The SMART Playbook was founded by a mom of three, with a possibly impossible mission: to offer families a simple and effective game plan to teach relevant life skills in a modern world. Written in a relatable style and chock full of games. The SMART Playbook will lead parents and their children in a collaborative effort to bring manners to a new generation. The child is the player, the parents are the coaches, the book is the guide. Life is the referee. Sneak Peek click here!
5 SMART topics to help children succeed:
"S"OCIAL SKILL BASICS - The principles of modern manners
"M"EALTIME MANNERS - A guide to mealtime etiquette
"A"RT OF CONVERSATION - Eloquent face-to-face conversational skills
"R"ESTAURANT BEHAVIOR - The finer points of restaurant conduct
"T"ECHNOLOGY TALK - Internet safety and responsible usage
The methods included in The SMART Playbook will help children ages 7-12 gain confidence, character, integrity and empathy in face-to-face situations and technology usage. More than 100 games and challenges to choose from. The result: a happy and confident child thriving in a modern world.
After all, Johann Wolfgang von Goethe said that, "A man's manners are a mirror in which he shows portrait". And, Fred Astaire was not wrong when he said that, "The hardest job kids face today is learning good manners without seeing any".
Available at http://www.thesmartplaybook.com for $19.95 or Amazon. Individual playbooks by SMART topic also offered at $8.95. For a limited time, join the launch party on the website and receive a free coach guide- a great resource for all parents!
About the Author:
Suzanne Wind lives in CT with her husband three kids. Before kids, she was an international marketing executive in New York City. With a multi-cultural background, she was raised in more than six countries with four languages. Her career and living overseas taught her the importance of knowing and using the common language of manners and social skills to being your best. Today she's a mom with a mission, inspired to communicate social skills in a modern world to a new generation.