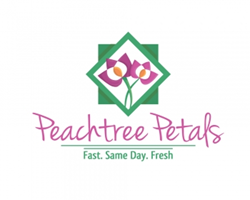 Atlanta, GA (PRWEB) February 27, 2014
Peachtree Petals, a recognized leading Atlanta florist specializing in premium floral arrangements and wedding floral decor services, announces its new midtown store availability for pick up orders for the Atlanta and Metro-Atlanta areas. The florist makes the announcement to inform its' clients of its' new midtown location to expand its' current client base, while increasing gift shop visits and sales. Peachtree Petals pursues to be the best choice in high-quality and custom-designed floral arrangements throughout the US.
The Peachtree Petals floral and gift shop is now available for customers to pick up their floral arrangements and assorted gifts from the Midtown store located at 1450 West Peachtree Street. The florist welcomes walk-in clients and online pick orders. Depending upon the size of the arrangement, creating an arrangement may take between 20 minutes and upwards to design. Walk-in volume orders can be placed as well, which customers can consult directly to a floral designer to address all of their floral needs.
Customers can place orders online at the Peachtree Petals' comprehensive website and pick up their floral arrangement. The new Midtown store is very accessible and is a closer commute for all of its' clients, especially those within the downtown area. The operating hours of the gift shop is Monday through Friday from 8:00 a.m. to 5:00 p.m. and Saturdays from 8:00 a.m. to 1:00 p.m.
Held as one of the best Atlanta florists, Peachtree Petals recently relocated to the midtown area this month. The luxurious floral and gift shop includes floral arrangements, gift baskets, chocolates, candles, plush toys, balloons, and more. For any questions regarding directions to the new location or about any floral needs, please call 678-336-1195 or visit http://www.peachtreepetals.com.
Peachtree Petals is a well-known leading Atlanta florist and recognized Master Florist nationwide. From Wedding Bouquets to Anniversary Flowers, Peachtree Petals is able to meet all of your floral needs. Their floral designers have over 50 years of experience and enjoy their craft. Based in Atlanta, Georgia, Peachtree Petals services a growing list of clients, including company floral subscriptions and weekly floral services.