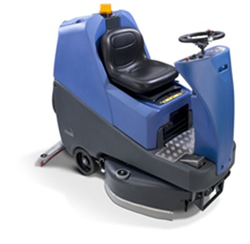 Ride on scrubber dryers further reduce the user's work.
(PRWEB UK) 28 February 2014
A traditional mop and bucket may suffice while cleaning small areas, or individual rooms, however, when faced with the daunting task of cleaning a large area, a mop is not ideal, often moving the soiling around, rather than taking the dirt out of the surface. The task takes effort and more importantly time but there are viable, time saving alternatives available.
With the release of the Numatic's new TRO650 in January of this year we thought we would run through the benefits of scrubber dryers in comparison to other methods. A scrubber dryer is a user friendly machine that, depending on the model, can either be guided along or driven around a large area of flooring as a fast and extremely effective means of cleaning. They come with a number of benefits over a traditional mop and bucket such as the fact that they save time and do most of the work for the user meaning they can spend more time conducting other tasks. Scrubber dryers also get the job done to a far higher standard than other methods meaning it is easier to achieve the high level finish desired. Scrubber dryers also have the added bonus of both cleaning and drying an area almost immediately which reduces the risk of someone becoming injured on a wet floor.
Ride on scrubber dryers, which reduce the effort of the user, are battery operated meaning large areas can be covered without having to leave the unit.
The guided scrubber dryers do not require the user to push the unit along but instead move forward without assistance and simply require the user to guide them. These units are available both as battery operated units and electric cable units.
If you wish to save time in even more areas then small area scrubber dryers are available that can be 30% faster than a mop. These machine allow total freedom as they are battery operated and are without cables. There is also the option to use a second standby battery unit for extended performance (up to 1.5 hours), using one battery while the other is being re charged. The high suction power of these machines leaves floors clean and dry in a single pass just like their large area counterparts.
Vita Direct is a company based in the North East UK which deals in a wide range of cleaning and janitorial solutions, visit us at http://www.vitadirectuk.com.