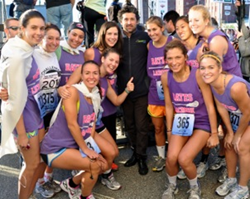 Patrick Dempsey says, "Positive Tracks enables kids to make a difference- it's amazing. I believe in Positive Tracks because it's about so much more than fundraising – it's about kids giving back to the world in a healthy, creative, productive way."
Hanover, NH (PRWEB) March 04, 2014
You've Come A Long Way Baby
Now on its fifth year of growth, Positive Tracks flourishes as a national 501©(3) nonprofit dedicated to perpetuating a scaled, sports-based youth development model that gets youth moving and simultaneously engaged in shaping their own future and the future of our world by helping others. By the end of 2014, Positive Tracks will have helped 36,000 young people turn 221,000 miles of athletic activity into $4,000,000 for 10 charity partners.
It All Started With Cam
The story of Positive Tracks begins with three kids and one woman who didn't want to make casseroles. Cam, a 9 year-old boy, had leukemia, and Nini Meyer's two boys wanted to help. Because cooking wasn't Meyer's strong suit, the family helped to organize a community run in honor of Cam. To amp the support, Nini put together a youth challenge grant that matched dollars Cam's friends raised through participating in "Cam's Course."
Despite torrential rain that knocked out power and sound, hundreds of families showed up to run for Cam that inaugural day. A very sick Cam was carried through the finish line by his school principal to the sound of his friends humming Chariots Of Fire. The determination and hope plastered across the mud-soaked faces of Cam's young friends was proof that kids, too - kids, especially - want to help when times get tough. Cam's Course hammered home that young people are capable of making a difference if given the right tools - the tools already embedded into charitable athletic events. Yet most charitable athletic events are geared towards adults - leaving the younger set stuck with traditional "family fun runs".
The need was clear. So Meyer set out to build a scaled program that plugged into multiple athletic events to help young people go to bat for multiple causes across the globe. She named her incubator of hope and sweat: Positive Tracks.
Double the Dollars; Double the Fitness; Double the Fun!
A good, sweaty idea needs partners. Meyer's first step was to identify charities that believed in her vision to engage youth through athletics. It wasn't a hard sell then, and still isn't today. The Patrick Dempsey Center For Cancer Hope & Healing was a founding charity partner, along with The Dempsey Center's premier fundraising event, The Dempsey Challenge. The Positive Tracks Program has since raised over $600,000 for The Dempsey Center over three years time. Patrick Dempsey, Dempsey Center Founder and Positive Tracks Spokesperson says, "Positive Tracks enables kids to make a difference - it's amazing. I believe in Positive Tracks because it's about so much more than fundraising - it's about kids giving back to the world in a healthy, creative, productive way."
Where Giving Back Meets Going the Extra Mile
Every dollar raised by youth and matched by Positive Tracks goes to Positive Tracks charity partners to benefit the global populations and places the charities serve. Using the power of one's body is the ultimate vehicle of transformation. Positive Tracks fights childhood obesity while it helps youth connect to causes they care about. Meyer says, "Through Positive Tracks, we've seen the combined power of youth and sport build hospitals, promote integration for the disabled, empower minorities and women, fund education for underserved youth, fight cancer and AIDS, and protect our planet."
Heart: The Muscle that Matters Most
In Positive Tracks land, every kid - regardless of race, size or income level - brings something to the table whether it's creativity, sense of humor, or good lungs. They simply need the willingness to show up - to find a starting line, literally or metaphorically. Kids are organizing soccer, lacrosse and tennis tournaments and 5K runs. They're surfing, climbing, cycling across the country, organizing dance-a-thons and Dodge-ball tournaments. Each charity has a Positive Tracks Coordinator and toolkits for youth guidance.
The Power of We is Greater than the Power of Me
Positive Tracks is powered by philanthropic and corporate partners who share the goal of getting kids outside, moving, and inspired to give back. Positive Tracks supporters don't just understand the story - they're part of the story. Positive Tracks spokespeople use their universal passion for sport to boost Positive Tracks' broad call to action.
About Positive Tracks
Positive Tracks operates out of Hanover, NH and is a program of the Yippee Foundation. Hemenway & Barnes LLP provides administrative, philanthropic and legal services.
Please Visit: Website, Promo, Facebook, Twitter
Please Contact: Nini Meyer, Positive Tracks Founder, 603.252.9233