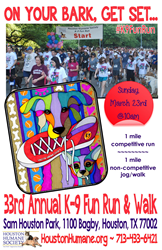 Houston, TX (PRWEB) February 26, 2014
The Houston Humane Society is excited to announce that the 33rd annual Houston Humane Society will be on Sunday, March 23 at Sam Houston Park, 1100 Bagby. This fun and beneficial event begins at 10 a.m., check-in opens at 8 a.m. and activities will end at 12 p.m. The event will also feature a doggy costume contest, an alumni walk, interactive activities and much more! All proceeds raised go directly to the Houston Humane Society (HHS).
"People participate for various reasons," said Monica Schmidt of the Houston Humane Society. "Some walk in memory for a pet they lost, some run for abused animals and some jog just to support HHS. It is special to see the community band together for a common cause and raise awareness for the animals."
All four-legged family members and their two-legged human companions can now sign up for a 1-mile competitive run, 1-mile non-competitive jog or a 1-mile non-competitive walk. Those interested can help raise funds by inviting friends and family to pledge. Simply create a pledge page online. Visit http://events.houstonhumane.org for more information.
For more than 50 years, Houston Humane Society has helped thousands of animals find loving homes. HHS also provides a low-cost wellness clinic to the public seven days a week for exams, vaccines and Houston's only $30 spay/neuter service.
Early registration by Feb. 28 is $25, and regular registration before the day of the event is $30 and $40 race-day. Vendor and sponsorship opportunities are also available. For more information, visit http://events.houstonhumane.org, email funrun(at)houstonhumane(dot)org or call 713-433-6421 ext. 337.
About the Company:
The Houston Humane Society is dedicated to, and working towards, ending cruelty, abuse and the overpopulation of animals while providing the highest quality of life to those in their care. The HHS does not receive any government funding or operating funds from national animal welfare organizations, and relies solely on donations, special events and program services. HHS maintains a four-star rating from Charity Navigator. Visit the Houston Humane Society website for more information.