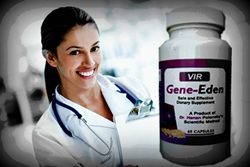 We believe that overweight individuals of all ethnicities who are concerned about becoming obese should take Gene-Eden-VIR. - Mike Evans, polyDNA
Rochester, NY (PRWEB) March 05, 2014
Rates of obesity have increased in all ethnicities in the United States over the past 30 years. However, a study showed that "…Hispanics, being more overweight and obese in middle age or early old age, were more likely to develop ADL difficulty (difficulty with daily living tasks etc.) over 10 years of follow-up than their white counterparts. Furthermore, obesity had more of an effect on the onset of ADL difficulty in Hispanics... (1)."
Interestingly, research shows that this rise in obesity rates may be due to the presence of a virus. "Researchers have discovered new evidence for an illness they have called 'infectobesity' - obesity that is transmitted from person to person, much like an infection. The agent thought to be responsible is a strain of adenovirus, versions of which cause the common cold. It has already been labelled the 'fat bug.'" (See independent.co.uk, from September 21, 2010) (2). polyDNA recommends that Hispanic individuals concerned about obesity learn about Gene-Eden-VIR. This natural antiviral was proven to reduce viral symptoms in a post-marketing clinical study that followed FDA guidelines.
"…scientists at the University of California, San Diego, have found that children who showed evidence of infection with adenovirus 36 were more likely to be fat. In tests on 124 children aged eight to 18, the virus was present in more than 20 per cent of those who were obese, compared with less than 6 per cent of the rest (2)."
Dr. Richard Atkinson said infection with adenovirus 36 "is certainly not the cause of all obesity, but it will contribute to your weight. It's a slow process … It takes a year or two to get really obese after you've been infected." (See livescience.com, from December 13, 2013) (3) Dr. Atkinson is the head of the Obetech Obesity Research Center in Richmond and a clinical professor of pathology at Virginia Commonwealth University.
Another study published last year followed 1,400 people and found that "those who tested positive for antibodies to the virus - meaning they had been infected at some point - gained significantly more body fat over a 10-year period than those who had not been infected."
Some may wonder if there is a treatment for "infectobesity."
While there are some dietary supplements that claim to be effective against viruses, the law does not consider natural, dietary supplements to be drugs. Therefore, it doesn't require the FDA to evaluate the effectiveness of these supplements. (See FDA.gov – Guidance for Industry Botanical Drug Products, from June 2004) (4). Gene-Eden-VIR is different.
A study published on August 12, 2013 in the peer reviewed, medical journal Pharmacology & Pharmacy, in a special edition on Advances in Antiviral Drugs, showed that Gene-Eden-VIR reduced viral symptoms. Study authors wrote that, "We observed a statistically significant decrease in the severity, duration, and frequency of symptoms (5)."
"We believe that overweight individuals of all ethnicities who are concerned about becoming obese should take Gene-Eden-VIR." - Mike Evans, polyDNA
To learn more about Gene-Eden-VIR, visit http://gene-eden-kill-virus.com/.
All orders of Gene-Eden-VIR are completely confidential, and no information is shared or sold to any third party. Privacy is assured.
References:
(1) Racial and Ethnic Differences in Obesity and Overweight as Predictors of the Onset of Functional Impairment. Published on January 2, 2014.
http://www.ncbi.nlm.nih.gov/pubmed/24384026
(2) Western surge in obesity may have been caused by a virus. Published on September 21, 2010.
http://www.independent.co.uk/life-style/health-and-families/health-news/western-surge-in-obesity-may-have-been-caused-by-a-virus-2084737.html
(3) Can You Catch Obesity With That Head Cold? Published on December 13, 2013.
http://www.livescience.com/41952-catch-obesity-with-head-cold.html
(4) US Department of Health and Human Services, Food and Drug Administration, Center for Drug Evaluation and Research (CDER), "Guidance for Industry. Botanical
Drug Products," 2004.
[http://www.fda.gov/downloads/Drugs/GuidanceComplianceRegulatoryInformation/Guidances/ucm070491.pdf __title__ ]
(5) Gene-Eden-VIR Is Antiviral: Results of a Post Marketing Clinical Study. Published on August 12, 2013.
http://gene-eden-kill-virus.com/PP_Gene-Eden-VIR-is-Antiviral.pdf
polyDNA is a biotechnology company that develops dietary supplements using the unique scientific method developed by Dr. Hanan Polansky, which is based on Computer Intuition.
In addition to his unique scientific method, Dr. Polansky published the highly acclaimed scientific discovery, called Microcompetition with Foreign DNA. The discovery explains how foreign DNA fragments, and specifically, DNA of latent viruses, cause most major diseases.
polyDNA developed Gene-Eden-VIR, an antiviral natural remedy that helps the immune system kill latent viruses.